Reading in the news - Mon 7 Dec
07 December 2020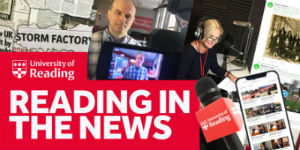 #WeAreTogether: Reading's work to tackle the coronavirus crisis. Read our round-up
COVID-19: expert comment on the coronavirus pandemic
Dr Simon Clarke (Biological Sciences) appeared on BBC News Channel answering viewer questions; BBC Berkshire about the rollout of vaccines; and is quoted in the Financial Times, Telegraph and the Guardian, Daily Mail (in print) on dropping infection rates, in Mail Online about Slough going into Tier 3, and his comment on using smartphones to look at data on foods that may protect against COVID-19 is translated for BBC News Online Indonesia.

Dr Al Edwards (Pharmacy) is quoted in the Independent on the accuracy of mass testing.
Professor Glenn Gibson (Food) is quoted in Your Healthy Living about the gut microbiome and COVID-19.
3D-printed pollen: The Guardian report on 3D printing of pollen, and spoke to PhD researcher Oliver Wilson about his open access project which can help a range of scientific disciplines.
Other coverage
Financial Times carries an interview with Vicki Harding, who is doing a Global Executive MBA at Henley Business School, about what she is learning from her course.
Also in the Financial Times is further coverage about a Henley Business School report in coverage about the idea of a four day working week.

Coverage of Dr Karen Wicks' comments on a prehistoric tsunami appear in the print edition of New Scientist.

Dr Naeema Pasha (Henley Business School) appears on Monocle's business podcast, The Bulletin with UBS.

Channel 4 repeat an episode of a Heston Blumenthal programme where he visited the Food Department to learn about freeze drying.

Mirage News and Indian Education Diary report on a new research centre that aims to ensure farmers' views are incorporated into agricultural innovation R&D. Dr David Rose (Agriculture) is quoted.
AgriLand report on a Christmas edition of the EIT Food-funded Focus on Farmers project, focusing on increasing productivity.
Public Sector Catering and FE News report on the success of UoR's catering team in the 2020 CUBO awards.
GetReading report on the work of the International Cocoa Quarantine Centre. Dr Andrew Daymond (Agriculture) is quoted.
Further coverage about residents' complaints over the management of land formerly owned by the University in Lower Earley, in Wokingham Today.