Food upcycling matchmaking service launched
07 December 2020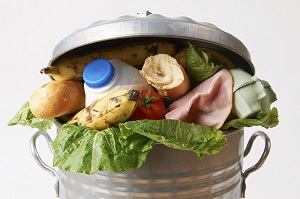 Food producers can find other businesses to sell their food waste to, thanks for a scheme to help to reduce the binning of by-products in the food industry.
The EIT Food-funded Digital Marketplace for Side Streams will help companies find ways to 'upcycle' waste from producing food products by connecting them with firms that can reuse them.
The team behind the project from the University of Reading and European food companies including Givaudan, Döhler, Puratos, and Pepsico have launched a database of possible ways to reuse food waste. The online platform managed by circular economy start-up Rethink Resource can help to show companies how they can make additional money from those by-products, find out other industries that can use these by-products, and reduce the waste from food production.
Dr Afroditi Chatzifragkou, Lecturer in Food Processing at the University of Reading said:
"Companies who we've spoken to have all said the same thing that they would love an opportunity to make some money out of what they normally have to throw away. The problem is that most don't know the value of these by-products or who would be interested in them.
"The idea of the Digital Marketplace for Side Streams is simply that we help to connect businesses who are interested in upcycling their waste with those who can use it. The database is set up in such a way that it will hopefully inspire firms to consider they can be involved in reducing waste from food production in this way.
"One of the great things about the Digital Marketplace is also that the scope for partnership goes beyond just the food industry. Cosmetics and pharmaceutical companies are equally able to use and benefit from by-products and reducing their consumption footprint by taking part in a circular economy like this."
Global health, nutrition and sustainable living company DSM is a leading provider of specialty ingredients for the food industry. In the Digital Marketplace for Side Streams project DSM has been working on enzymatic processing of by-products from food production, to explore opportunities for turning waste products into a viable new ingredients.
Dr Marco van den Berg, Principal Scientist Food & Application at DSM said:
"At DSM we are very much committed to make our processes and those of our customers more sustainable by offering innovative solutions that bring more value from the same starting material. Recently, we developed CanolaPROTM, a plant-based, clean-tasting, nutritionally complete and easy-to-digest protein, with numerous functional benefits in food applications, made from a side-stream of the rapeseed crushing process after oil extraction. Many more avenues remain unexplored, and this EIT project helps us to identify new opportunities previously overlooked."
Small businesses such as A&R House (BCL) Ltd are also benefiting from opportunities to turn production by-products into extra income. The SME based in Somerset takes various waste products that come from fruit juicing/processing plants. Using high temperature drying, the firm is creating commercial applications from fruit pomace that can be used in the pharmaceutical and cosmetics industry.
Alistair House, Director of A&R House (BCL) Ltd said:
"During our collaboration with the University of Reading, we have worked on improving the extraction techniques for anthocyanins from our blackcurrant pomace, which are often less stable that their competitors. This has enabled us to maintain our market positioning by improvements to our process conditions and this has been vital in continuing sales.
"We were also able to characterise the constituents for full commercialisation which has led onto further investigations into stabilisation techniques."
More details about the project can be found at: https://www.eitfood.eu/projects/eit-food-digital-marketplace-for-side-streams-2020
Digital Marketplace for Side Streams is a project under the support of EIT Food. EIT Food is Europe's leading food innovation initiative, working to make the food system more sustainable, healthy and trusted.
The initiative is made up of an innovation community of key industry players across Europe, consisting of over 90 partner organisations and over 50 startups from 16 EU member states. It is one of the Knowledge and Innovation Communities (KIC) established by the European Institute for Innovation & Technology (EIT) an independent EU body set up in 2008 to promote innovation and entrepreneurship across Europe.



This activity has received funding from EIT Food, the innovation community on Food of the European Institute of Innovation and Technology (EIT), a body of the EU, under the Horizon 2020, the EU Framework Programme for Research and Innovation.