#UoRWay: Digital multilingualism conference breaks down boundaries
07 December 2020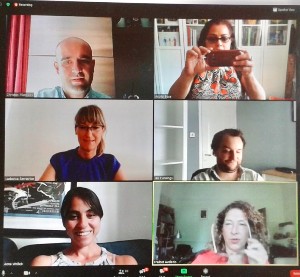 A pandemic couldn't stop linguistic academics from around the world coming together to tackle the big issues facing the field this year.
The 2020 Conference on Multilingualism (COM) was due to take place on campus at Reading this year, with 100 delegates from dozens of countries expected to attend.
However, due to Covid-19 travel restrictions, the conference was moved online, which meant more than 600 delegates from 64 different countries could attend.
Hosted by colleagues within the Centre for Literacy and Multilingualism (CELM), the conference featured five thematic sessions – education, migration, language & literacy, health, and neuroscience – finished off with a roundtable discussion on visions for the future of bilingualism research and a Q&A session between speakers and attendees.
Professor Ludovica Serratrice, director of CELM and professor of bi-multilingualism said:
"Going online massively increased the reach of the conference – and not just in geographical terms. Approximately 20% of the audience were not the typical academic delegates – they were teachers, speech and language therapists, language consultants, translators and interpreters. And on the academic side, we were pleased that a third of our participants were early career researchers.
"Some aspects of the interaction were probably better than at a face-to-face conference. For example, the fact that audience members could type questions in to the Q&A channel allowed them to start the discussion during the talk – rather than just at the end – and it often generated dialogue among the delegates who commented and replied to questions in real time.
"Going online was not our first choice, but it made the conference more inclusive and significantly extended its global reach, so it is a choice we are glad we were forced to make. The challenge in future will be to make the most of the digital tool we have, not to reproduce the face-to-face experience, but to create a new way of doing things together as a global community of researchers and practitioners."