#WeAreTogether: Covid-fighting llamas win award for animal research openness
08 December 2020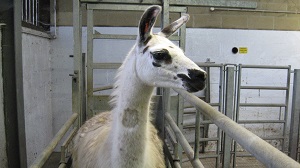 Fifi the llama has helped the University of Reading to win a second award for its open discussion of the use of animals in scientific research.
The Openness Awards, run by Understanding Animal Research, recognise people and organisations that champion openness on animal research – a principle enshrined in the Concordat on Openness in Animal Research, of which Reading is a signatory.
The 2020 award is the second year running that the University of Reading has won an Openness Award, after a social media campaign, also featuring llamas, was honoured in 2019. Reading was also shortlisted for a website award in 2018. The latest prize was for a media campaign that highlighted scientific research between Reading and the Rosalind Franklin Institute in Oxford, using llama antibodies to search for potential new treatments and vaccines for COVID-19. The story, which led to features on TV, radio, a Conversation blog, on social media and on BBC News, was part of Reading's #WeAreTogether campaign, showing the huge array of activity the University has been doing to fight the coronavirus pandemic, also supporting a UK-wide campaign.
The judges praised the campaign's good use of images and graphics, and for working with skilled journalists to produce stories that highlighted issues around regulating procedures involving animals.
Professor Gary Stephens, Professor of Pharmacology who led the research partnership on llama research for Reading, said: "We are very happy to win another Openness Award, which shows our continuing commitment to be transparent about animal research and engage with the public and media.
"Reading has the fortunate position of having both wide-ranging expertise in human health, along with superb facilities on our farms to keep large animals such as llamas. This give us the opportunity to help the study of llama antibodies, which are providing critical new insights into treatments for COVID-19 and other diseases.
"My thanks go to the many colleagues at the University, in particular at the Centre for Dairy Research (CEDAR) whose commitment and enthusiasm make this research and wider public engagement possible, and to the talented journalists who skilfully brought this complex story to a wide audience."