Reading in the news - Tue 8 Dec
08 December 2020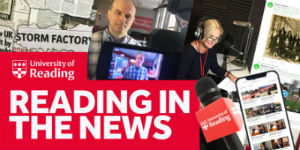 COVID-19: expert comment on the coronavirus pandemic
Dr Al Edward (Pharmacy) is quoted by the Guardian, Daily Mail and Telegraph on a mass covid-19 testing scheme in Slovakia.
Dr Simon Clarke (Biological Sciences) spoke to Al Jazeera about the Russian Sputnik V vaccine; and to BBC Radio Berkshire, BBC Radio Hereford and Worcester and Heart Radio Berkshire about the Pfizer vaccine rollout beginning in the UK.

BBC South interviewed Professor James Reade (Economics) about his research into the impact playing football matches behind closed doors has on results, as some fans returned to stadiums this weekend.
#WeAreTogether: Reading's work to tackle the coronavirus crisis. Read our round-up
Get Reading and Reading Chronicle report on the Earl of Wessex's visit to the University to meet scientists working on new technologies to fight the coronavirus.
Bird flu: Dr Simon Clarke (Biological Sciences) spoke to Talk Radio about the cull of turkeys in England after another outbreak of avian influenza.
Other coverage
Farming UK and Business Innovation Magazine reports on a new virtual research centre co-run by University of Reading experts, and quotes Dr David Rose (Agriculture). Read our news story.
Heart Radio Berkshire and Planet Radio online report on an appeal for volunteers for an EIT Food-funded cancer food study being run by the University. Read our news story.

BBC Radio Berkshire spoke to Dr Afroditi Chatzifragkou (Food & Nutritional Sciences) about her research on recycling and upcycling food to reduce waste.

ZD Net quotes Professor Sharm Manwani (Henley Business School) in an article on how to effectively manage colleagues while working from home.

BBC Radio Berkshire spoke to Dr Mark Shanahan (Politics & International Relations) about the ongoing Brexit negotiations.

Further coverage in ART News of research published by Professor Ken Dark (Economics) suggesting a likely location for the childhood home of Jesus in Nazareth.
Building Specifier reports on research co-led by Reading that showed the quality of house and neighbourhood design is being overlooked in favour of hitting targets.
The Express mentions the discovery of an Anglo Saxon warlord by Reading archaeologists, and quotes Dr Gabor Thomas (Archaeology), in a story on a Bronze Age burial excavation. Read our news story.
Knowledge publishes an article co-written by Dr Caroline Rook (Henley Business School) on technology and mental health, ahead of today's Summit of Mental Health in Organizations, where she features as a speaker, as previewed by Exame.
The Financial Times publishes a letter co-signed by Pro Vice Chancellor Professor Dominik Zaum (Politics & International Relations) calling for the UK government to uphold the Nolan Principles, including honesty, accountability and leadership, ahead of tomorrow's UN International Anti-Corruption Day..
South Africa Today and First Post report Reading and NCAS research showing Greenland's melting ice sheet is approaching a tipping point beyond which it will never regrow.
The University's Weather Observatory is mentioned by a Henley Standard reader in a letter to the newspaper describing his efforts to detect climate change through amateur weather observations over the past 50 years.