Reading in the news - Thu 10 Dec
10 December 2020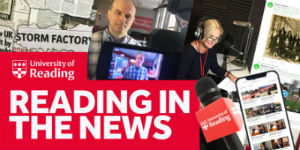 COVID-19: expert comment on the coronavirus pandemic
Dr Simon Clarke (Biological Sciences) was interviewed on TalkRadio about allergic reactions to the Pfizer vaccine, as well as the number of people who have caught Covid in hospital; and LBC Radio on the potential of a third wave - this interview was played on overnight news bulletins and picked up by a number of regional Heart radio stations.
Dr Clarke was quoted in China Daily, The Malaysian Reserve and The National on the effectiveness of the Oxford/AstraZeneca vaccine; and Indonesian site Nova on the use of facemasks in wet weather.
Prof Ian Jones (Biological Sciences) is quoted in this MailOnline article, commenting on allergic reactions seen following the Pfizer vaccine - the article also appears on MSN. The same comment is used in another MailOnline article on how images of a Texan woman's feet came to be used for anti-vaccine propaganda. Italian sites Il Farmacista and QuotidianoSanita.it, and Malaya Business Insight quote Prof Jones in articles about the Oxford/AstraZeneca vaccine.
The Taipei Times has reproduced the Guardian article on loss of smell, featuring comment from Dr Jane Parker (Food).
Tax avoidance: Dr Margaret Cooper (Henley Business School) is quoted in this Reuters article on how many major oil companies are avoiding paying taxes. The article has also been picked up in multiple international business publications, including Yahoo Finance and MailOnline.
Mosaic discovery: An Independent article on the discovery on an ancient Roman mosaic in Gloucestershire includes comment from Prof Ken Dark (Economics) on the significance of what this represents. The article also appears on MSN.
UK/EU Brexit talks: Dr Mark Shanahan (Politics) spoke to Arirang about the latest in the UK/EU Brexit talks, while Prof Rajneesh Narula (Henley Business School) spoke to China.org.cn about the current deadlock. The article also appears on Sina.com, People's Daily Online and Xinhua.net.
Africa music support: Henley Business School is supporting rising West African music stars through a partnership with Afrinolly and MTN Y'ello Star music competition. Coverage in premier youth news site Zikoko, The Net, Blueprint, P.M. Express and Nigeria's Guardian newspaper.
Other coverage
Dr Mark Shanahan (Politics) spoke to TalkRadio about Trump's failed lawsuits claiming voter fraud.
Bracknell News reports on a meeting that took place with local councillors and University experts on the impact of climate change and what can be done to address it, following protests from local residents that the council's plans do not go far enough.
Exame.com lists Dr Caroline Rook (Henley Business School) as one of the guest speakers at The Summit of Mental Health in Organizations taking place this week.
Dr Michael Garratt (Agriculture) is quoted in a press release about the European Bee Awards, which is reported in CEMA-agri.org and Eurativ. Dr Garratt is President of the European Bee Award Jury.
The Edinburgh Evening News reports on a study by the University of Glasgow which has found that the quality of new housing design is not meeting national planning policy. Researchers from the University of Reading were also involved in the study.
Farming Life reports on the University's involvement in the Focus on Farmers webinar series as part of the EIT Food project.