Young consumers want food backstory from producers


10 December 2020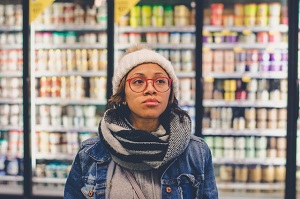 Students and young people want to know more about food producers and their ethos, according to new research.
The EIT Food-funded WeValueFood project quizzed young people who are newly responsible for their food shopping about their food values and what kind of information they want about their food. The research was led by academics from the University of Reading and heard from participants that transparency and honesty were key factors for having a favourable opinion about food producers.
Students who took part in the project said that they would trust producers more if they were able to find out more about food producers' backstory, including their ethos and approach to food.
Dr Alice Mauchline, Senior Research Fellow in the School of Agriculture, Policy and Development at the University of Reading led the project. She said:
"The findings provide key evidence for food producers and retailers about what young people expect to know about their food in the future. The young people we spoke to were clear about wanting more information from their food producers so that they feel like they could trust them. Transparency was a key factor in the focus group discussions we had; and important and familiar themes about environmental sustainability and animal welfare came up a lot.
"It's clear from the research we did that the next generation of consumers want to see their food reflect their values around sustainability and honesty. Even though these are young people who have only recently been responsible for doing their own grocery shopping, they are already discerning of issues such as exaggerated health claims in food packaging, blunt advertising and lack of transparency in food standards."
Packaging needs to change to reflect values
The young people involved in WeValueFood also felt that food packaging needed to be improved.
Students who took part in the online focus groups felt that the excessive use of plastic packaging would make them less likely to buy a product, with one student saying:
"The amount of plastic packaging, it makes me instantly ignore that product"
Participants also said that traditional media channels and advertising were less likely to make them become interested in a producer or food product, and preferred more educational content via social media. Content such as 'behind the scenes' production and stories about the producers lives were seen as favourable ways to understand more about the company and would develop greater trust.
The project website provides further information about the research:
https://www.eitfood.eu/projects/wevaluefood-2020



This activity has received funding from EIT Food, the innovation community on Food of the European Institute of Innovation and Technology (EIT), a body of the EU, under the Horizon 2020, the EU Framework Programme for Research and Innovation.
EIT Food is Europe's leading agri-food innovation initiative, with the aim to create a sustainable and future-proof food sector. The initiative is made up of a consortium of key industry players, start-ups, research centres and universities from across Europe. EIT Food aims to collaborate closely with consumers to develop new knowledge and technology-based products and services that will ultimately deliver a healthier and more sustainable lifestyle for all European citizens.