Reading in the news - Fri 11 Dec
11 December 2020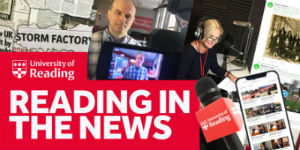 COVID-19: expert comment on the coronavirus pandemic
Dr Simon Clarke (Biological Sciences) is quoted in New Scientist, Telegraph, Daily Mail, Evening Standard, Mirror, Daily Express, The National, Yahoo News and more than 100 regional publications via Press Association, including the Reading Chronicle, on whether the Covid-19 vaccine will give any protection in time for Christmas.
Professor Ian Jones (Biological Sciences) is quoted by the Daily Mail on pregnant women being told not to have the vaccine yet; and in the Daily Mail again on the response to the allergic reaction suffered by two people after having the vaccine.
#WeAreTogether: Reading's work to tackle the coronavirus crisis. Read our round-up
BBC News Online quotes Reading's low rate of positive tests during the mass testing programme ahead of Christmas, in an article on the national picture mirroring this. See the latest mass testing stats on the University's Covid-19 information dashboard.
Director of Student Services Dr Paddy Woodman spoke to BBC Radio Berkshire about the additional mental health challenges for students this year due to the pandemic.
VAR in football: Professor James Reade writes for Forbes on his latest research analysing whether the introduction of the Video Assistant Referee in Premier League football has improve decision-making.
Species evolution: New Scientist quotes Professor Chris Venditti (Biological Sciences) on new research showing new species emerge faster in areas where few already exist.
Impulse buys: Which? Mentions a study co-run by the University of Reading looking at online shopping behaviour, in an article on how businesses encourage impulse purchases.
Business PR: Biz News interviews Dean and Director of Henley Business School Africa Jon Foster-Pedley on the importance of businesses engaging with the public.
Other coverage
BBC News Online reports on a Plaid Cymru politician sharing a tweet by Professor Rosa Freedman (Law) asking people to stop comparing transphobia with the Holocaust.
The Reading Chronicle and Reading.co.uk preview the upcoming Children's Christmas Lecture by Dr Richard Blakemore (History) on the true history of pirates. Read our news story.