Reading in the news - Mon 14 Dec
14 December 2020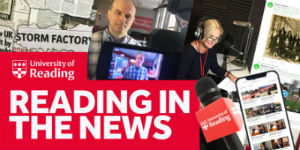 COVID-19: expert comment on the coronavirus pandemic
Dr Simon Clarke (Biological Sciences) spoke to Russia Today, the Telegraph and The Canary about vaccines; the Daily Mail, Telegraph and Express about infection rates and restrictions; LBC Radio about the arguments around keeping schools open; the Telegraph on the Oxford/Astrazeneca vaccine; and BBC Radio Berkshire, the Telegraph and Medscape about the shortened required isolation time in the UK.
Dr Al Edwards (Pharmacy) is quoted in the Times, Daily Mail, This Is Money, MSN News and more than 100 regional titles on concerns over the accuracy of rapid lateral flow tests.
Climate cooperation: France 24 and MSN News interviewed Visiting Professor Chuks Okereke (GES) and Sina, China.org and people.cn quoted Professor Hannah Cloke (GES) on the weekend's Climate Ambition Summit, where world leaders discussed opportunities for cooperation on climate action.
Other coverage
Professor Hannah Cloke (GES) is quoted by The Week in an article on flood forecasting.

Catholic Universe quotes Dr Rachael Neal (Gibbs) (SAPD) on the health benefits of consuming fish.

Wales Online interviews Wales Rugby Union international Chris Knight about his career, and mentioned he graduated from Reading in 2012.