Reading in the news - Tue 15 Dec
15 December 2020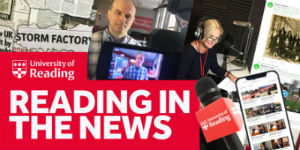 COVID-19: expert comment on the coronavirus pandemic
Dr Simon Clarke (Biological Sciences) spoke to

BBC Radio 4's The World Tonight

and

BBC Berkshire

following the announcement of a new mutation of the virus

, and the comments were also used on

BBC London TV

and in

MSN

.

TRT World,

and

BBC Radio West Mids

about lifting restrictions for Christmas.

Dr Clarke

also spoke to

TalkR

ADIO

and quoted in the

Sky News

about London going into Tier 3

;

quoted in

the Times

about

the use of

face covering to reduce infections in the Capital

;

in

the Telegraph

about priority recipients of the Pfizer vaccine;

and in the

Reading Chronicle

about possible move to Tier 3 for Berkshire in the new year.

Professor Ian Jones (Biological Sciences) is quoted in

MSN News

about the new mutation of the coronavirus.

Dr Al Edwards (Pharmacy)

spoke to

BBC Berkshire

about the rollout of vaccinations against COVID-19.
#PlanetPartners: Reading's global collaborations to fight climate change – read more.
Professor Hannah Cloke (Geography and Met) is among seven researchers awarded a

fellowship for scientific collaboration

by

ECMWF

.
Pharmaceutical Journal report on how MPharm courses have been adapted due to the global pandemic, and the University of Reading's provisions are mentioned.
Multitasking: Forbes looks at whether multitasking can be mastered through practice. Professor Philip Beaman (Psychology) is quoted.
Pink News

reports on a Parliamentary hearing around the Gender Recognition Act, in which Professor Rosa Freedman (Law) gave oral evidence.

Professor James Reade (Economics) spoke to

TalkRADIO

about research playing football matches without fans in the stadiums and the effect on results.

Dr Richard Blakemore (History) spoke to

BBC Berkshire

ahead of the University's Christmas lecture on the theme of pirates.

PhD student Hannah Piekarz (Psychology) reviews a BBC drama series Small Axe for

the Psychologist

.

Sputnik News

quotes Dr Mark Shanahan (Politics and IR) about the US electoral college which voted on Dec 14 as part of the Presidential election process.

Skift

covers

investment in new tech for immigration

control, and

mention

a project to use biometric scanning to speed up border crossings led by Professor James Ferryman (Computer Sciences).

Professor Helen Dodd (Psychology) is quoted in a

SchoolsWeek

advertorial looking for donors to support outdoor play equipment

in primary schools.

Food and Drink Technology

report on the EIT Food-funded

Grand Challenges

project about trust in various parts of the food industry.

University Business

report on unconscious bias training in higher education. Professor Andrew

Kakabadse

(Henley Business School) is

quoted.

Radio Times (

in print

) notes that a team of alumni from

UoR

will be appearing on Christmas University Challenge on 29 December.

Reading Chronicle

report on a petition in relation to land formerly owned by

UoR

in Lower

Earley

.