#UoRWay: Generous donations support students during pandemic
17 December 2020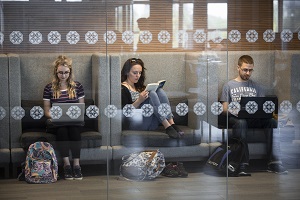 Alumni and supporters of the University have generously given to support current students facing hardship due to the global pandemic.
The Student Hardship Appeal, coordinated by the University of Reading's Alumni and Supporter Engagement Office, has raised more than £60,000 in this term alone to support students. The donations from members of the wider University community will provide additional funds for this academic year, as well as free financial advice for all students.
Dylan Parkes, Director of Alumni and Supporter Engagement at the University of Reading, said:
"The generosity of donors giving to the Student Hardship Appeal has been tremendous. At the time when our students need help more than ever, our community has rallied to support them. At the start of the academic year, we received more than five times the normal requests for emergency help.
"The response of our alumni and supporter community is so heartening during this most difficult year. They are ensuring that students who need additional financial support receive it when it matters the most.
"Although our work is far from done, we could not have made it this far without the support of our community. To all our donors – thank you for your ongoing support."
Professor Robert Van de Noort, Vice-Chancellor of the University of Reading, said:
"Our students have been faced with some of the most challenging circumstances in our University's history and we are grateful to our donors for stepping up to help them overcome these challenges.
"Our donors responded to these exceptional times with exceptional generosity; from ensuring those most affected by COVID-19 had financial support, to providing those in digital poverty with the equipment they needed for remote learning, our community continues to make a difference to students' lives.
"Every donation, no matter its size, has contributed to the success of our students this term. While the challenge isn't yet over, the response of our alumni community has shown us how much we can achieve when we work together."
Watch Professor Robert Van de Noort's message of thanks at:
https://youtu.be/5dXCeGxe0UU
Find out more about the Student Hardship Appeal, or how you can get involved, through the IMAGINE campaign.