Reading in the news - Thu 17 Dec
17 December 2020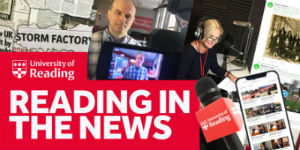 COVID-19: expert comment on the coronavirus pandemic
Dr Simon Clarke (Biological Sciences) spoke to BBC Radio 2's Jeremy Vine Show on how to have a safe Christmas with family; talkRadio and BBC Radio Berkshire about the Christmas relaxation of rules; and LBC Radio about the tier system.
Dr Clarke is also quoted in this Independent article on hugging elderly relatives over Christmas (the article is reproduced on Yahoo Canada); and in GetReading about the possible move to Tier 3 for Berkshire in the new year.
Professor Ian Jones (Biological Sciences) is quoted in a MailOnline story about Sir Ian McKellan receiving the Pfizer vaccination.
Comment from Dr Rachel McCloy (Psychology) featured in the Telegraph live blog and The Scotsman following Boris Johnson's statement about having a 'small' Christmas this year.
A Press Association story that includes comments from both Dr Clarke and Dr McCloy on the Christmas relaxation of rules has been picked up by local media outlets across the UK and also appears on Mail Online and MSN UK.
Shops and farmers win trust through pandemic: The Grocer and Farmers Weekly report on a research project by the University of Reading which found that consumers are more trusting of farmers and food retailers as a result of their response to the pandemic. Read our news story.
Bethlehem and beyond: Prof Ken Dark (Economics) has written a blog for The Conversation on how Christianity's earliest sites were identified.
Other coverage
Prof Chris Scott (Met) spoke to BBC Radio Berkshire about the space rock returned to Japan - the first ever specimens to be brought back to Earth from an asteroid.
BBC Radio Berkshire spoke to Dr Jacqui Turner (History) about the childhood of Nancy Astor.
Epigram, the University of Bristol's student newspaper, covers the research project that involved Reading scientists which discovered how pterosaurs evolved over millions of years to become better fliers. Read our news story.
Dutch site Management Team features a story on innovating whilst working remotely, citing some research conducted by Henley Business School.
The Wokingham Paper (print) covers the Earl of Wessex's recent visit to the University to meet scientists working on new technologies to fight the coronavirus. Read our news story.