Reading in the news - Wed 16 Dec
16 December 2020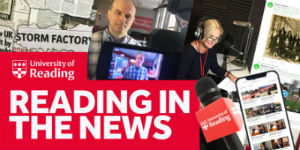 COVID-19: expert comment on the coronavirus pandemic
Dr Simon Clarke (Biological Sciences) spoke to BBC Radio Hereford and Worcestershire, BBC Radio Scotland and Heart Radio Berkshire about the relaxation of restrictions over Christmas; and BBC Radio Berkshire about the new variation of the virus announced this week.
Professor Ian Jones (Biological Sciences) is quoted by Yahoo News on the new variation of the virus; and the Columbus Dispatch on false claims the Covid-19 vaccine causes infertility in woman.
Professor James Reade (Economics) was interviewed by Talk Radio on research he co-led into the impact the absence of fans at Premier League games during the lockdown had on results.
Global warming: The Telegraph quote Professor Ed Hawkins (Meteorology) on a new Met Office report that shows the Earth is warming faster than previously thought.
Transgender rights: Professor Rosa Freedman (Law) writes for The Spectator on comparisons being made between attacks on the transgender community and the Holocaust.
Astor history: Dr Jacqui Turner (History) spoke to BBC Radio Berkshire about Lady Nancy Astor, the first woman to take her seat in Parliament, and her childhood in Virginia which is the subject of some new blogs on the Astor 100 project website.
Other coverage
The Reading Chronicle report on a new project gathering examples of nicknames given to places by children through history, to learn how they relate to the English landscape. BBC Radio Berkshire interviewed Dr Jeremy Burchardt (History) who is leading the project. Read our news story.
Dr Mark Shanahan (Politics & International Relations) spoke to Talk Radio about Donald Trump's final legal challenge against the US election result being thrown out.
Food Processing reports on Reading research (Agriculture) that shows young people want to know more about food producers and their ethos. Read our news story.
Biz News interviews Director and Dean of Henley Business School Africa Jon Foster-Pedley on the importance of kindness in business marketing.
Today, Daily Trust, Bellanaija and National Mirror Online report on the winner of the maiden edition of MTN Y'ello Star, a music talent competition in Africa that offered business training from Henley Business School to the contestants.
China.org quotes Professor Rajneesh Narula (Henley Business School) on the post-Brexit trade deal negotiations.
Further coverage by Vintage News of the publication of evidence by Professor Ken Dark (Economics) that suggests a likely location for Jesus' childhood home.
The Daily Star references research into the health benefits of drinking bubbly in a festive article.
AEW uses a University of Reading study on liquidity premium in an article on global market opportunities.
A policy paper co-written by Research Dean for Prosperity and Resilience Professor Adrian Bell, looking at medieval revolts and modern mass protest, is published by History & Policy.
Tyrone Constitution previews an EIT Focus on Farming Christmas event, involving Agriculture experts at the University of Reading.
FE News report on two food education programmes being accredited by EIT, including the Masters in Food Systems programme which was co-developed by the University of Reading.