Reading in the news - Fri 18 Dec
18 December 2020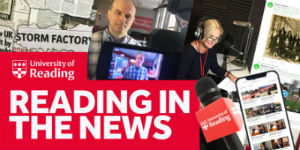 COVID-19: expert comment on the coronavirus pandemic
Rachel McCloy (Psychology) is quoted in the Daily Mail, the Express and regional titles across the UK, including Wales Online and My London, about the Government's messaging around Christmas restrictions.
Dr Simon Clarke (Biological Sciences) spoke to the Daily Mail about Christmas restrictions; LBC Radio about tiered restrictions; and BBC Radio Berkshire about Berkshire being put into Tier 3.
Professor Ian Jones (Biological Sciences) is quoted Daily Star Post and Florida Post about vaccine safety.

Dr Al Edwards (Pharmacy) spoke to BBC Radio Berkshire about Berkshire being put into Tier 3.
#WeAreTogether: Reading's work to tackle the coronavirus crisis. Read our round-up
The Reading Chronicle quotes Reading Borough Council leader Cllr Jason Brock reacting to Berkshire being placed into Tier 3, in which he mentions the walk-in testing facility at the University's London Road campus as an example of the measures locally to keep people safe.
Shinfield Studios: BBC South reports the agreement between the University and Commonwealth to build new film studios on the Thames Valley Science Park site. Read our news story.
Font design: Professor Paul Luna (Typography) is quoted by the Financial Times feature on typeface design company Dalton Maag and the importance of fonts in branding today. The feature also mentioned that the company's Creative Director Eleni Beveratou is a Reading Typography graduate, and that Reading teaches typography courses.
Other coverage