#UoRWay: Pharmacy students help deliver Covid-19 vaccine
18 December 2020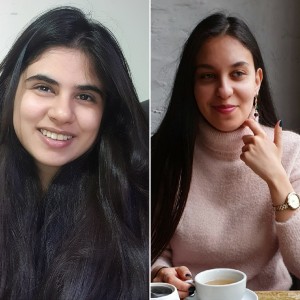 Students from the University of Reading's Pharmacy programme have been helping to deliver the Covid-19 vaccine to communities in Reading.
Reem Shalhoub and Sara Haj Mohamed, who are both third year students, have gained hands-on clinical experience preparing the Pfizer-BioNTech vaccine for use at the Tilehurst Village Surgery.
In turn, they helped to vaccinate more than 900 patients across the area.
Reem said:
"COVID-19 has affected us in ways that we can't even describe. When a vaccine finally showed promising results and was approved for use, it was a light of hope through all the darkness that the world faced this year.
"We are very privileged to have been living in the UK, which is the first country in the world to approve and roll out the Pfizer-BioNTech COVID-19 vaccine. This has been an ever-rewarding opportunity that any pharmacy student would love to take part in."
Sara said:
"Helping with the vaccination programmes will definitely be a challenge alongside our studies, but that is a sacrifice we are willing to make, as being part of the first steps towards a COVID-free UK is absolutely invaluable."
The students went through an application process where they had to demonstrate their healthcare experience and interest in the programme. Having been accepted, Sara and Reem underwent vigorous training, including courses on the Covid-19 vaccination, CPR, anaphylaxis, and resuscitation of adults.
Lecturer in pharmacy and practising registered pharmacist Gurinder Singh, who has been involved in the roll-out of the vaccination, said:
"Six months ago, none of us ever imagined vaccinating 400 patients in a day, but healthcare professionals have truly collaborated to make this possible. Everyone has worked tirelessly to ensure we could roll out the vaccine programme from hospitals and GP surgeries.
"I urge everyone to come on board and take the vaccine when it is offered, there is no doubt in terms of its safety and effectiveness. All the regulatory procedures have been followed allowing us to start delivering this important intervention to break the chains in transmission and look forward to the new year with hope.
"We have Christmas and New Year celebrations coming up, but I advise everyone to stay safe in the difficult few months ahead as we vaccinate more and more people. We still need to keep social distancing and wearing face coverings high on the agenda.
"The message is clear: we are still at risk and we as individuals must do everything possible to protect ourselves and our loved ones. It is still a long time before everyone is vaccinated.
"This is a huge national effort and everyone needs to play their part."