Reading in the news - Mon 21 Dec
21 December 2020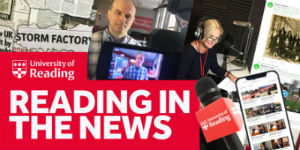 COVID-19: expert comment on the coronavirus pandemic
#PlanetPartners: India Education Diary reports on the Malaysia launch of the Lancet Countdown report on climate change and health, one of two international presentations of the findings involving Reading experts. Read our news story.
Film studio deal: BBC South Today, BBC London News, BBC Radio Berkshire, BBC News online, Get Reading, Reading Chronicle, Reading.co.uk, Bracknell News, Wokingham Today, Televisual, Built Environment Networking, 4RFV and One News Page all cover the announcement of a deal for the lease of land at Shinfield that will see a major film studio be built there.
Other coverage
Heart Berkshire

spoke to Dr Mark Shanahan (Politics and IR) about the possibility of a Brexit deal.

The Hindu reports that hospitalisations with snake bites in Madurai, India, increased in November, and references Reading research and campaign work by Sakthi Vaiyapuri (Pharmacy).
New Food Magazine quotes Dr Jane Parker (Food and Nutritional Sciences) on flavourist training courses at the University of Reading.
International Dairy reports Reading research showing consumers want to know more about food producers and their ethos. Read our news story.
AgriLand reports a Reading study into using herbal leys in beef production.
Food Navigator and India Education Diary reports Reading research into smart labelling for food. Read our news story.
Real People includes Reading research (Food and Nutritional Sciences) showing flavanol-rich foods and drinks like tea can lower blood pressure, in a feature on things our bodies do in a typical year. Read our news story.
Snopes republishes an article written for The Conversation by Professor Anne Lawrence-Mathers (History) on the historic origins of Christmas decorations.
Berkshire Live include thoughts from Dr Tara Pirie (Biological Sciences) on big cat sightings in Berkshire in a feature on unusual facts about the local area.
Continued coverage of the winner of the MTN Y'ello music talent show, which provided mentoring from Henley Business School to contestants, in Vanguard, Neusroom and others.

BBC Gloucester discussed musician Mike Oldfield's Tubular Bells record, and notes that a celebration to mark 40 years since its release was held at the University of Reading back in 2013.