Reading in the news - Mon 3 Feb
03 February 2020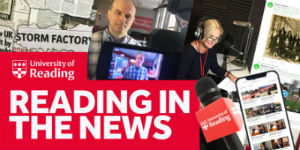 Coronavirus: Professor Ian Jones (Biological Sciences) is quoted worldwide on the latest confirmed cases of coronavirus in BBC Online, Financial Times, Mail Online, iPaper, The Huffington Global, Deutsche Welle, IB Times and Belfast Telegraph,
Global climate: The Sun, Mirror, Daily Star and Florida Star quotes Professor Matthew Owens (Meteorology) on the sun entering a solar minimum, and whether this is likely to impact global temperatures.
Languages and education: TES quote Professor Ludovica Serratrice (Psychology) on assumptions that are made about the abilities of schoolchildren who speak English as a second language.
Voting rights: Professor Ruvi Ziegler (School of Law) is quoted by the Telegraph on the voting rights of UK citizens in Europe after Brexit.
Other coverage
The Irish Mail on Sunday reviewed Professor Tom Oliver's (Biological Sciences) book on how humans are connected with one another and the environment.
Estates Gazette interviews a Reading Real Estate student on their study experience.
All in London features the upcoming 'Critic as Artist' exhibition by Reading International, a collaboration led by the University of Reading, in London.
The Week features a Reading study showing bilingualism helps slow down decline in brain function.
The Sunday Times published a letter which mentioned Professor Rosa Freedman (School of Law) raising concerns about academic freedom of speech.
Reading.co.uk reports on the University of Reading maintaining its place in Stonewall's Top 100 Employers.
Building Design publishes a piece by Flora Samuel (Architecture) on development decision-making.
The Precision quotes Dr Mark Shanahan (Politics and International Relations) on Britain leaving the EU on 31 January.
Deccan Herald quotes Professor Tom Oliver (Biological Sciences) on the importance of a transition to renewable fuel sources.Emeritus Professor Philip Strange (Pharmacaology) authors a piece on bird behaviour for Marshwood Vale Magazine.
Healthy Food Guide feature a Reading study showing eating two apples a day helps reduce the risk of stroke.
Health Food Business reports on a Reading study into information printed on food packaging.
The Derby Telegraph quotes Jo Billington (Centre for Autism) on figures showing how much the council is spending on fighting special needs tribunals.
Educatering features the new picture book developed by the University of Reading (Food and Nutritional Sciences) to encourage children to eat vegetables. Read our news story.