Reading in the news - Wed 5 Feb
05 February 2020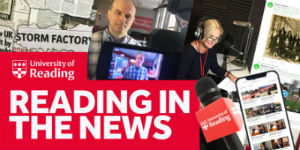 Healthy milk: The Times, The Sun and Farming UK report on a Reading study showing changes to cows' diets results in healthier milk. Read our news story.
Food risks: The Daily Mail and wprost in Poland quote Professor Gunter Kuhnle (Food and Nutritional Science) on a US study showing eating red meat twice a week raises the risk of early death. Professor Kuhnle is also quoted by the Times on the health risks associated with processed foods.
Social satire: Dr Dina Rezk (History) spoke on BBC Radio 3 about the use of humour to comment on political or social problems.
Coronavirus: Professor Ian Jones (Biological Sciences) is quoted in articles worldwide on the latest on the Wuhan coronavirus, vaccine development, and a dedicated hospital opened in China, including the Express, Yahoo News, CBC, Japan Times, Insider and Long Room.
Human rights: LBC interviewed Professor Rosa Freedman (School of Law) about the benefits of the Human Rights Act, in relation to the recent terror attack in London.
Other coverage
The Guardian's Weather Eye feature mentions Professor Ed Hawkins' (Meteorology) climate stripes in a piece about climate change and previous climate fluctuations.

BBC Radio Berkshire interviewed Sustainability Manager Dan Fernbank on the University's decision to stop all its investments in fossil fuels.

Read our news story

.

BBC Radio Shropshire interviewed Professor Chris Collins (GES) about the use of peat despite this contributing to climate change.

The Psychologist

publishes a piece by Professor Parastou Donyai (Pharmacy) about how patients can be helped to take medication correctly.

People Management

quotes Dr Washika Haak-Saheem (Henley Business School) on lower than average salary growth in the HR profession.

The Breeze FM report on the industrial action announced in the dispute over pay and working conditions. Some online articles, including

MSN News

, list Reading among the other universities where strikes are confirmed.