Reading in the news - Thu 6 Feb
06 February 2020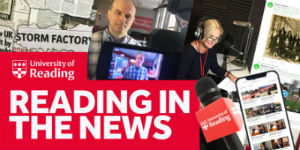 Divestment: Coverage of an announcement that the University of Reading will be fully divesting from all fossil fuels in 2020 is covered on BBC News online, Reading.co.uk and is mentioned in an article in the Times. Read our news story.
Coronavirus: Prof Ian Jones (Biological Sciences) is quoted in an IFL Science article on the latest on the Wuhan coronavirus.
Outdoor learning: Prof Helen Bilton (IoE) spoke to BBC Radio 5 Live during a discussion about 'flexi-schools' and the benefits of outdoor and alternative learning environments.
Other coverage