Reading in the news - Fri 7 Feb
07 February 2020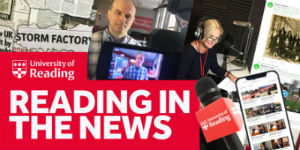 Coronavirus: Prof Ian Jones (Biological Sciences) is quoted in articles for the Sun and spoke to LBC radio following a third case of Coronavirus announced in the UK; and Visiting Associate Prof Ben Neuman spoke to Sky News.
Architecture and climate change: An article for the RIBA journal reports on the judging of the MacEwan architecture awards, and the focus on projects that considered climate change. Urban Room, a UoR Architecture student project, was on the longlist.
Samuel Beckett: Emeritus Prof Jim Knowlson spoke to ABC News Australia about his new book about Waiting for Godot, and recollections of spending time with Samuel Beckett.
Other coverage