Reading in the news - Mon 10 Feb
10 February 2020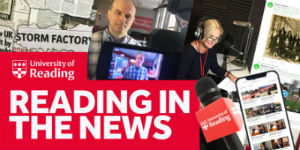 Climate stripes: BBC News interviewed Professor Ed Hawkins (Meteorology) on his climate stripes visualisation being worn by US Democrat senators at the State of the Union address.
Coronavirus: Professor Ian Jones (Biological Sciences) is quoted on the latest coronavirus developments in several Daily Mail articles, Irish Sun, the Star, Express, Yahoo News, MSN News, China.org and a Guardian live blog last week. He was also interviewed by LBC radio.
Victorian Literature: The Guardian quotes Professor Gail Marshall (English Literature) on the enduring appeal of the short story The Yellow Wallpaper. The piece is also published by Yahoo News.
Food promotions: The Daily Mail quotes Professor Gunter Kuhnle (Food and Nutritional Sciences) on medical practitioners found to have been paid to promote the health benefits of certain food products.
Other coverage
Times Higher Education quotes Professor Rosa Freedman (School of Law) on the upcoming UCU strikes over pay and working conditions. Read our Staff News piece on the strikes here.
The Daily Express John Ingham column mentions Reading research on predictions by the world's leading weather agencies. Read our news story.
An interview with Brighter Futures for Children on Sunday Politics on BBC One mentioned staff training taking place at the University of Reading.
The BBC publishes a video on a Reading graduate founding an online community to support graduates after they leave university.
Get Reading and BBC Radio Berkshire interviewed Dr Roger Brugge (Meteorology) for a piece looking back at the storm of 1987 and its impact on Berkshire.
Professor Elizabeth Robinson (Agriculture) spoke to BBC Hereford and Worcester radio on how changes to farming can help the environment.
BBC Radio Berkshire interviewed Professor Adrian Palmer (Henley Business School) on the future of high streets.
BBC Radio Berkshire interviewed Dr Katie Gray (Psychology) on facial recognition technology and what it tells us about instances of mistaken identities.
British Heart Foundation published a piece on its website about Reading research showing changing the diet of cows results in healthier milk. Read our news story.
The Reading FC website previews the weekend's match day programme, featuring the latest predictions by Reading economists.
Latin Post and Business Ghana quote Professor Gunter Kuhnle (Food and Nutritional Sciences) on a new study on the health risks attached to red meat.
ESG Clarity reports on the University going fossil fuel-free with its investments. Read our news story.
The Cliff Central podcast (28 mins 45 secs) interviews musician Loyiso Bala, who has started an MBA at Henley Business School Africa, in its 'Meet the Mind' feature.
Ghana News Agency references a Reading study on the international trade of donkey skins.
Reading Chronicle reports that a new post box for parcels will be installed at Wantage Hall.