Reading in the news - Tue 11 Feb
11 February 2020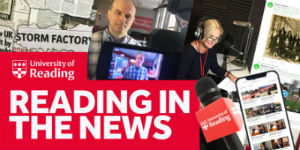 Climate change and aviation: The Boston Globe quotes Professor Paul Williams and Professor Keith Shine (Meteorology) on a strong jet stream helping a plane achieve the fastest journey from New York to London at the weekend. PhD researcher Simon Lee (Meteorology) also spoke to WIRED UK on this story.
Coronavirus: The Times and iNews quote Dr Al Edwards (Pharmacology) on the spread of the Wuhan coronavirus. Professor Ian Jones (Biological Sciences) is quoted in the Star in Malaysia and Business Insider.
Flood defences: The Telegraph quotes Professor Hannah Cloke (GES and Meteorology) on the effectiveness of flood defences after parts of the UK were flooded this week.
Ofsted rankings: The Guardian and Yahoo News quote Professor Gail Marshall (Literature and Languages) on Ofsted proposals to rank universities by graduate earnings.
Other coverage
The Times publishes a letter by Dr Ruvi Ziegler (School of Law) in response to a column about immigration.
The Independent republishes an article for The Conversation by Taibat Ibitoye (Food and Nutritional Sciences) on malnutrition in the elderly.
The Independent republishes an article for The Conversation by Professor Jane Parker (Food and Nutritional Sciences) about our sense of smell.
The Maidenhead Advertiser quotes Dr Roger Brugge (Meteorology) on Maidenhead recording its mildest winter in 12 years.
PR Week reports on a new programme looking to improve communications in the NHS, with input from Henley Business School.
BBC Radio Berkshire interviewed Dr Helen Bilton (IoE) about proposals to use biometric data like fingerprints to crack down on exam cheating.
The Breeze mention the wind speeds recorded at the University's weather site in its news headlines.
A GP in Thatcham mentioned that her practice is taking on a Physician Associate from the University of Reading during a BBC Radio Berkshire interview.