Refugees offer Reading language students global experience
11 February 2020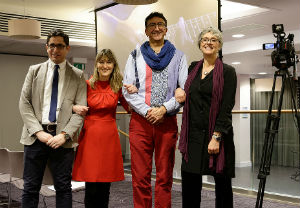 Students at the University of Reading will get an even more global experience thanks to an innovative scheme that allows them to learn languages directly from refugees.
Reading is connecting students with refugee coaches through Chatterbox, an online learning platform that provides employment opportunities to refugees and the chance for language learners to converse with native speakers.
The service will be provided at Reading through its Institution-Wide Language Programme (IWLP), which offers language modules to all members of the University community.
Arabic, Spanish and French are the three languages that students have signed up for so far. The scheme will run through to the summer term before the start of the end-of-year exams.
Professor Ludovica Serratrice, Director of the University of Reading's Centre for Literacy and Multilingualism, which is sponsoring the scheme with the IWLP, said: "Conversing with native speakers is a superb way for students to truly immerse themselves in a language, and Chatterbox allows us to offer a global learning experience at Reading.
"The personal experience the tutors possess of different cultures and living through events that are shaping the history of countries around the world ensure that our students will have a comprehensive learning experience."
Ben Phillips, a second year Politics and International Relations student who has been using the service this academic year, said: "I've found that Chatterbox has been a great help so far as it complements what has been covered in the lessons by having that extra conversational practice one-to-one.
"It has acted as a good follow-up and refresher for topics that were covered earlier in the year and last year, and also adds to what I've learnt in class as the tutor offers other new words and phrases to broaden my vocabulary."
Undergraduate students will have access to a total of 150 hours of tutor time over the course of the academic year. In this first year a selected number of students who are taking a language module at stage 2 or above have been allocated an initial package of 10 hours.
The launch of Chatterbox at Reading adds to other opportunities to experience the world through studying at the University. It also follows the introduction of refugee scholarships in 2018, in partnership with Reading Refugee Support Group.
Ahead of the launch of the service at Reading, two Chatterbox language coaches have shared their stories about escaping to the UK in fear of their lives and the opportunities becoming tutors has given them.
'I was shot three times'
John Morales worked in the media and was a politician in Colombia before he came to the UK. After helping establish a left wing party to challenge the government, he found himself the subject of attacks, including his car being targeted by missiles.
John said: "I was shot three separate times – in the head, lung and leg. I was also tortured and bodyguards assigned to protect me were killed. It was awful and very painful. It was hard to get over that."
After deciding he needed to leave Colombia for his and his family's safety, an unexpected opportunity arose to exit the country in January 2015. Retired former Newcastle United footballer and Colombia sporting hero Faustino Asprilla visited Colombia caused a stir when he fired eight shots into the air outside a disco in his homeland days before returning to Europe.
"We used the attention on him in order to escape," said john. "It took a long time to make it to the UK. When I left I said 'no more politics'.
"When I arrived in the UK it was quite difficult to settle down and make connections. When you're brand new in a country you don't know how things work. Joining Chatterbox was a great opportunity for me. It's great to feel valued because of who I am but also valued as a professional."
John said he feels his background gives him an advantage over other languages tutors that students can benefit from.
He said: "Not everyone has the experience and privilege of having visited most of the countries in the American continent. I worked in the media, so I have learnt a neutral way of speaking Spanish, which is helpful for students to learn to communicate with confidence in any Spanish speaking country."
An enemy of ISIS
Mohammad Asi is an Arabic tutor for Chatterbox but was previously an English teacher in northern Syria after graduating from university in Damascus in 2011.
After his school was closed due to the threat of bombing when civil war broke out, he moved to the city of Manbij and established the newspaper al-Masar al-Hur. The newspaper was critical of both the Syrian dictatorship and of militia groups like ISIS.
Attempts were made to close down the newspaper, and its journalists were often arrested, with one later tortured and killed. At first Mohammad and his team could enlist support from the public and rival militia groups to get his staff released, but after ISIS gained full control of the city they were helpless to prevent such oppression.
Mohammad said: "I had to leave Syria as it was very dangerous. I was politically active. My newspaper was calling for democracy and opposing the dictatorship, and also opposing radical groups. Both considered me an enemy. I was threatened.
"After I left Syria, ISIS asked for me. If I hadn't got out within two months I would have been arrested and killed."
Mohammad eventually left Syria in 2014, crossing the Mediterranean to Italy on a small fishing boat along with 250 others, including several of his newspaper team. The crossing took seven days.
Mohammad initially found it difficult to get a job or go back to university because his documents were incomplete. He worked as a delivery driver until Chatterbox gave him an opportunity, which has since allowed him to complete a diploma and take on other teaching work.
Chatterbox at the University of Reading launch event
Thursday 13 February | 5pm-7pm
Meadow Suite, Park House, University of Reading, Whiteknights, Reading, RG6 6UA
For more details, visit the event page here