Reading in the news - Wed 12 Feb
12 February 2020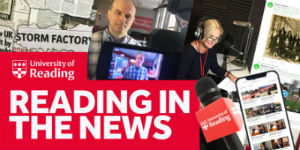 Coronavirus: Yahoo News quotes Professor Ian Jones (Biological Sciences) on the COVID-19 virus likely originating from bats. Dr Simon Clarke (Biological Sciences) spoke to TRT World about the latest coronavirus developments.
Non-executive directors: BBC South reports on the University providing Physician Associates to GP practices in the region. Read our news story.
Drowning awareness: BBC Radio Berkshire mention the one-year anniversary of Reading student Daniel Williams' death in a report raising the awareness of accidental drowning.
Other coverage
Nada Kakabadse (Henley Business School) writes a piece for Board Agenda on questions non-executive directors should ask before joining the board.
The Henley Standard mentions the University's School of Architecture has built a pavilion for Badgemore Primary School in a preview of the Chelsea Fringer Henley Festival.
The Hindustan Times quotes PhD student Akshay Deoras (Meteorology) in a report on the high night-time temperatures in Mumbai.