Reading in the news - Fri 14 Feb
14 February 2020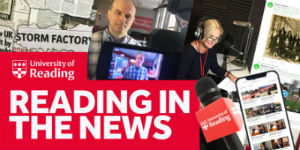 North Sea dam: Professor Hannah Cloke (GES and Meteorology) is quoted on a proposal by a Dutch scientist to enclose the North Sea with a 300-mile dam to protect Europe from rising sea levels in the Guardian, Mail Online, the Times Scotland, Yahoo News, the Glasgow Herald, the Express and Metro.
Climate change and aviation: Research co-authored by Professor Paul Williams (Meteorology), showing warmer climates are making it harder for planes to take-off and land, is reported in the Mail Online, Sky News Online, Mirror, Irish Sun, BT, Long Room, Irish Examiner, LBC, Smooth Radio and Yahoo News. Professor Williams was interviewed by BBC Radio Berkshire. Read our news story here.
Unhealthy food banks: Medical Xpress, BBC Radio Berkshire and Heart Radio Berkshire reports on the Reading study led by Dr Rosalind Fallaize (Food and Nutritional Sciences) into the sugar and nutritional content of food banks. Read our news story.
Gender dynamics: BBC Radio 4 interviewed Dr Rebecca Bullard (English Literature) about the novel Pamela, by Samuel Richardson, which explores slavery and sexual abuse.
Language learning: BBC South (full news piece to follow this evening) and ITV Meridian reported on the University signing up to a service that connects refugees with students to assist with their language learning.
Covid-19: Dr Al Edwards (Pharmacy) was interviewed on BBC World Service about a virus test system he is working on. WIRED and MSN News quote Professor Ian Jones (Biological Sciences) on how the spread of the coronavirus could play out in the coming weeks. Dr Simon Clarke (Biomedical Sciences) spoke to LBC Radio, Talk Radio and BBC Radio Berkshire about how contagious Coronavirus is and how to stop it spreading.
Make-up and pregnancy: The Telegraph quotes Professor Emeritus Philippa Darbre (Biological Sciences)on a German study that links wearing make-up while pregnant with obesity in children.
Other coverage
Professor Amy Smith (Classics) and Dr Amara Thornton (Ure Museum) spoke to BBC Radio Berkshire about the Ure Museum on campus as part of a series highlighting museums around Reading.
The Reading Chronicle reports on Reading going fossil-fuel-free in its investments.
Edie mentions sustainability improvements made at the University of Reading since it signed up to the JUMP green rewards scheme.
British Heart Foundation reports that research led by Dr Alister McNeish (Pharmacy) is investigating how oily fish lowers blood pressure.
Silicon Republic quotes Charmi Patel (Henley Business School) on the future of workplace annual performance reviews.
The Hindustan Times PhD student Akshay Deoras (Meteorology) on the latest weather conditions in Mumbai.
Inderscience mentions Reading research on how to make Valentine's Day roses last longer in vases.