Reading in the news - Tues 18 Feb
18 February 2020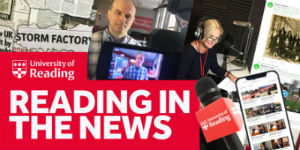 Flooding: Prof Hannah Cloke (Met) was on BBC Radio 5 Live Breakfast show, BBC News 24, Channel 4 News, BBC Radio 5 Live and BBC South discussing the recent flooding and how climate change is a contributing factor to the risk of flooding. She was also quoted in articles in The Guardian, The Daily Mirror, The Independent, The Mirror, Channel 4 News Online, Daily Mail, ITV Online, Daily Mail and various regional newspapers (PA story). Dr Jess Neuman (Geography) also spoke to Sky News, BBC News 24, BBC News and BBC Radio Berkshire.
Storm Dennis: Dr Jon Shonk (Met) was on BBC Radio Berkshire talking about Storm Dennis. Prof Len Shaffrey (Met) was also quoted in The Times (£). Stephen Burt spoke to CNN and was quoted in The Express.
Coronavirus: Dr Al Edwards (Pharmacy) was on BBC Radio 4 and BBC World Service about a test he is working on that will tell people if they had the virus, even if they didn't display any symptoms.
Bacteria in cows: Dr Partha Ray and Dr Caroline Rymer (Animal Sciences) were featured on BBC Radio 4 regarding their study into how feeding oregano oil to calves can reduce antimicrobial resistant bacteria in their systems.
Other coverage
Prof Ted Shepherd (Met) was interviewed by BBC Radio Berkshire on the Met Office's new £1.2 billion supercomputer which is set to improve weather forecasting.
BBC Radio Berkshire covered the University's new Chatterbox scheme, which will give students the chance to practice their language skills with refugees. Read our news story here.