Reading in the news - Wed 19 Feb
19 February 2020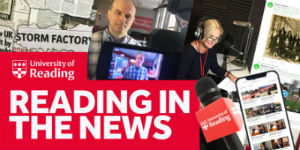 Blackhall studios: Major US film production company, Blackhall Studios, is in discussions with the University of Reading to lease space at its Thames Valley Science Park for a major new film studios complex. The news story was reported by The Guardian, FT (£), Sky News, The Times (£), Daily Mail, City AM, Metro, BBC South, BBC Radio Berkshire, The Breeze, BBC Radio Humberside, BBC Radio Wiltshire, BBC Berkshire Online, Screen Daily, Yahoo News, Reading Chronicle, GetReading, Wokingham Today, The Irish News, Hollywood Reporter, Deadline, Televisor, Arab News 24, Exec Review, Business Mayor and various local media outlets (online/radio) around the country. Read our news story here.
Flooding: Dr Rob Thompson (Met) was on Sky News and The Breeze discussing natural flood defences. Dr Jess Neumann (Geography) also spoke to BBC News (8 mins 14 secs in) on the same topic.
Coronavirus: Dr Simon Clarke (Biomedical Sciences) was interviewed on ITV News and Deutsche Welle (also on DW last week here and here) and was also quoted in The Times (£), The Telegraph, CNBC and USA Today Post,
Other coverage
Comments from Prof Liz Robinson (Economics) were featured in a BBC Newsbeat article about the $10 billion climate change investment from Jeff Bezos. The article was reproduced on Arab News 24.

BBC South

covered the University's new Chatterbox scheme, which will give students the chance to practice their language skills with refugees. Read our news story here.
The Breeze has reported on a study which found that emergency food parcels from food banks are not high in nutritional value. Read our news story here.
Comments from Dr Jon Robson (Met) were featured in a Wired article on monitoring ocean currents.
Dr Partha Ray and Dr Caroline Rymer (Animal Sciences) were featured on BBC Radio Somerset and BBC Shropshire regarding their study into how feeding oregano oil to calves can reduce antimicrobial resistant bacteria in their systems.
The University is mentioned on BBC Radio Berkshire as being a sponsor of the Summer Sports Festival, which aims to get school children interested in sport.
Dr Kleio Akrivou (Henley) spoke to BBC Radio Berkshire about the announcement by Igloo that it will only reimburse staff for vegetarian food bought on expenses.
International Business Times carries an article on the impact of climate change on air travel, featuring comments from Professor Paul Williams (Met).
The Reading Chronicle reports that the University is to face a series of strikes over the next few weeks.