Reading in the news - Thu 20 Feb
20 February 2020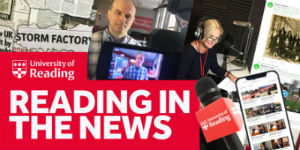 Blackhall studios: Further coverage of the Blackhall Studios announcement on BBC News 24, Sky News, BBC News, BBC Radio 2, The Sun (print), The Daily Mail (print), This is Money, BBC South, ITV Meridian, LBC Radio, BBC Radio Berkshire, ITV Meridian Online, Wokingham Today, The I (print), Building.co.uk, Construction News Plus (print), UKSPA, IBC 365, WiredGov and Construction News.
Prof John Gibbs (Arts and Communication Design) also spoke to BBC Radio Berkshire about the benefits to the University and the local area. Read our news story here.
Coronavirus: Dr Simon Clarke (Biomedical Sciences) was featured in The Evening Standard, Daily Mail (print also) and Daily Mail again, commenting on evacuations of the Diamond Princess and Westerdam cruise ships. He was also on TRT World earlier in the week.
Flooding: Prof Hannah Cloke (Met) was quoted in The Guardian (print also) for a piece on houses being built on floodplain land. The piece is reproduced on Yahoo News. Prof Cloke is also quoted in various regional outlets.
Other coverage
BBC Radio Berkshire covers the staff strikes which have begun today, talking to both UCU representatives and students at the University. Deputy Vice-Chancellor Prof Parveen Yaqoob was also interviewed. Heart Berkshire and The Breeze report on the strikes too. Reading is also listed in a BBC Online article as one of many universities with strike action taking place.
Prof Liz Robinson (Economics) was interviewed by BBC Radio Jersey about the $10 billion climate change investment from Jeff Bezos.
Matthew White (Campus Commerce and Chair of TUCO) penned an opinion piece for University Business (print) celebrating 27 years of The University Caterers Organisation (TUCO).
Matthew White (Campus Commerce) wrote another piece for University Business on student welfare being an important priority for TUCO.
A feature in University Business (print) on the modern library mentions the new library at the University of Reading.
Save Money: Lose weight on ITV interviewed Professor Jane Parker (Food and Nutritional Sciences) on the science behind taste.
BBC weatherman, and University of Reading graduate, Simon King was interviewed by BBC Radio Berkshire on recent flooding in the area.
Magazine, Professional in Payroll, Pensions and Reward (print), mentions the case of Dronsfield vs the University of Reading in which an academic was fairly dismissed for misconduct.