Reading in the news - Mon 24 Feb
24 February 2020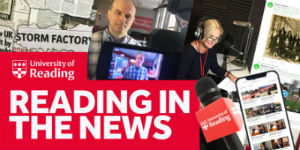 Flooding:
<!--[if !supportLists]-->- <!--[endif]-->Sky News interviewed Professor Hannah Cloke (GES and Meteorology) about ways to protect homes from flooding, following recent storms in the UK. Professor Cloke's is also quoted in the Observer and Yahoo News, and her comments on a proposed North Sea dam were used in the Guardian's weekly news review.
- Dr Jess Neumann (GES) spoke to TalkRadio and LBC on why homes are still being built on flood plains.
- Professor Andrew Wade (GES) was interviewed by BBC Radio 4, and Professor Richard Allan (Meteorology) was quoted in the Telegraph on the weather patterns that brought large amounts of rain to the UK.
Blackhall Studios: The Sun, Business Leader, Wokingham Paper, Property Week, Estates Gazette and Get Reading report on the film studio development plans announced for University of Reading land. Read our news story.
COVID-19: Dr Simon Clarke (Biological Sciences) is quoted worldwide, including in Newsweek, New York Times, Reuters, Daily Mail, International Business Times, This Is Money, Breitbart, France 24, Japan Today, RTL Today and Yahoo News, on the latest on the coronavirus outbreak. He was also interviewed by Sky News, and again on Sunday.
Winter weather: PhD researcher Simon Lee (Meteorology) is quoted in the Weather Channel Online on upcoming weather patterns in the US and their relationship with the Polar Vortex.
Other coverage
The Telegraph quotes Professor Ian Givens (Food and Nutritional Sciences) on the health and environmental impacts of going vegan.

ITV Meridian visited the University to cover the nationwide UCU strikes by some members of staff.

BBC Radio Devon interviewed Dr Jacqui Turner (History) on the anniversary of Lady Nancy Astor's maiden speech in the Commons.

The Telegraph includes 'The Truth About Takeaways' on BBC One, featuring Professor Gunter Kuhnle (Food and Nutritional Sciences) as one of its programmes to watch.
Newsweek and Breitbart report comments made by Nigel Farage about previous endorsement of the University of Reading's partnership with Nanjing University in China by then Universities Minister Jo Johnson.
An article for The Conversation on how the body experiences pain is republished by MedicalXpress.
The Banbury Guardian reports on students from Banbury visiting the University of Reading under a scheme to increase the number of pupils from underrepresented backgrounds going into higher education.

Building mentions Reading research into insurance premiums.

The Star in Malaysia runs an article on the Henley Business School courses students can take at the Malaysia campus.