Reading in the news - Tue 25 Feb
25 February 2020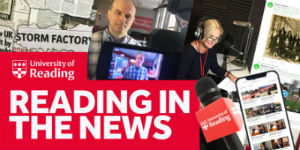 COVID-19: Dr Simon Clarke (Biological Sciences) is quoted worldwide on the new cases of the China coronavirus being confirmed in Italy in Science Magazine, Daily Mail (multiple articles), Times, Reuters, Telegraph, Evening Standard, Metro, Yahoo News, MSN News, France 24, CNA, RTL, International Business Times, Economic Times, Digital Journal and around 150 regional titles.
Flooding: Professor Hannah Cloke (GES and Meteorology) is quoted in the Times, Telegraph and Express on the recent flooding in the UK and statement by the Environment Agency about building on flood plains.
Food safety: Dr Andreas Karatzas (Food and Nutritional Sciences)n is quoted in a Daily Mail feature on how effective food safety gadgets are.
Other coverage
Bracknell News reports that five Reading students have signed up as volunteers for Citizens Advice Bracknell and Districts to help local people with financial problems.
BBC Radio Berkshire interviewed former Reading children's literature lecturer Dennis Butts about his new book exploring unanswered questions in children's books.
An article for The Conversation on how the body experiences pain is republished by the Independent.
The Times publishes an obituary of Professor Hannah Steinberg, a Jewish refugee from Nazi Germany who studied at the University of Reading and became a psychopharmacologist.