Reading in the news - Wed 26 Feb
26 February 2020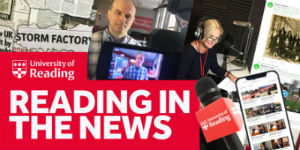 COVID-19: Professor Simon Clarke (Biological Sciences) was interviewed on This Morning (Dr Clarke on from 6 mins) on ITV, Iran International TV and TRT World about the latest coronavirus cases and travel guidance. He is quoted in the Independent, Yahoo News Australia, Cairns Post, New Zealand Herald, Medscape and Yorkshire Examiner Live.
Seagull feeding: New Scientist quotes Professor Mark Fellowes (Biological Sciences) in a story on a new University of Exeter study showing seagulls prefer food that has been handled by humans.
Other coverage
An article published by The Conversation on how nutritional advice will become more tailored in future quotes Professor Glenn Gibson (Food and Nutritional Sciences), and is republished by Yahoo News.
A Pancake Day charity fundraiser by Reading's School off Law is reported by The Breeze FM and the Reading Chronicle.
BBC Radio London mentioned Henley Business School research on the value of side hustle businesses to the UK economy.