Reading in the news - Thu 27 Feb
27 February 2020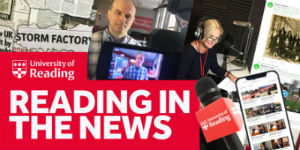 COVID-19: Further coverage of comments by Dr Simon Clarke (Biological Sciences) about Covid-19 and travel advice, in the Metro, CGTN, Yahoo! India, RSVP Live, and Dr Clarke also spoke to BBC Radio Berkshire.
Cocaine farming: VICE report on the farming of coca, the base ingredient for making cocaine, in Bolivia and quotes PhD researcher Kathryn Ledebur.
Truth about Takeaways: Prof Gunter Kuhnle (Food) will be appearing in 'The Truth about Takeaways' tonight on BBC One at 8pm, and is reviewed in the Telegraph.
Other coverage
An obituary for Professor Hannah Steinberg in the Telegraph mentions that the noted psychopharmacologist studied business at UoR.
The Florida Post report expert advice on checking food on whether it's safe to eat, including Prof Andreas Karatzas (Food).