Reading in the news - Fri 28 Feb
28 February 2020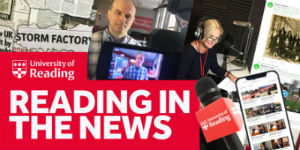 Takeaways: Professor Gunter Kuhnle (Food and Nutritional Sciences) appeared on The Truth About Takeaways on BBC One comparing which fast food is worst for our health. He is also quoted in LAD Bible on the same subject.
Four-day week: Professor Karen Jansen (Henley Business School) took part in a discussion panel about the four-day working week on BBC Radio 4's The Bottom Line. Read about Henley's research on the four day week here.
Flooding: The Telegraph quotes Professor Hannah Cloke (GES and Meteorology) on the ongoing flooding in the UK and how homes can be better protected.
COVID-19: Bloomberg, TRT World and LBC Radio interviewed Dr Simon Clarke (Biological Sciences) on the latest cases of the Wuhan coronavirus. He is also quoted by Yahoo News Australia.
Trade talks: Dr Mark Shanahan (Politics and International Relations) was interviewed on Russia Today about the UK's trade talks after Brexit.
Other coverage
Business Magazine quotes Mark Swain (Henley Business School) on planning and communication in business, from a round table event hosted by Henley Business School.
Professor Rick Poynor (Typography) writes an article on the feminist artist LinderSterling for Eye Magazine.
Red Shark and Global Atlanta report on the proposed Blackhall film studio in partnership with the University of Reading. Read our news story.