Reading in the news - Thu 2 Jan
02 January 2020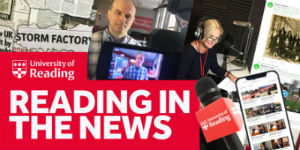 New Year's Honours: Prof Ed Hawkins (Met) was among those announced in the New Year's honours for services to climate science and science communication and is mentioned in the Times, Telegraph, Times Higher Education and Business Green. Prof Hawkins, who will receive an MBE, is quoted in GetReading; and is also quoted in a Washington Post article about confidence in global warming, and the climate stripes visual used for BBC News Channel's Weather World.
Brexit and the English Language: An article for the Guardian from Prof Jane Setter (English) explores whether Brexit will spell the end for English being used as an official EU language.
Snowmaggedon: Mail Online, Phys.org, Breitbart and others report on new research which looks at North American winter storms and the impact of polar vortexes and tropical conditions on weather in the US.
Play and wellbeing: Prof Helen Dodd (Psychology) spoke to BBC R4's All in the Mind about the benefits of play for childhood wellbeing, and new research looking at whether adventurous play can help protect against childhood anxiety disorders. The episode also aired on BBC World Service.
Snakebite: Times of India, The Hindu, Business Standard report on work by Sakthi Vaiyapuri (Pharmacy) to support rural communities around India in preventing deaths from snake bites.
Far Right: Dr Daphne Halikiopoulou (Politics and IR) writes for Washington Post's Monkey Cage about far right voters.
Nancy Astor: Dr Jacqui Turner (History) is quoted in an article for the New York Times reporting on the unveiling of a statue to female political pioneer Nancy Astor.
EIT Food projects: Several projects looking at food and healthy diets funded by EIT Food were covered over the holidays:
SureChoc: Daily Mail
TrustTracker: Western Morning News and The Courier.
Focus on Farmers: Farming UK
Schools Network: Reading.co.uk
See and Eat: Talk Sport Radio
<!--[if !supportLists]-->

Other coverage:
BBC News channel spoke to Prof Nicholas Bellouin (Met) about weather events over the past decade.
Prof Hannah Cloke OBE (Geography) co-wrote a Conversation article about positive stories relating to climate change, with Prof Cloke noting that flood forecasting is getting better through schemes such as FATHUM project which helped forecasting in Mozambique during tropical storms. The article was republished by Mic

.

Prof Cloke also spoke to BBC Radio 4 and BBC Berkshire about the heavy rain and flooding around Christmas.
BBC R4's Farming Today spoke to Prof Richard Tiffin (Agriculture) about the Agrimetrics project he leads, and the work on using big data to help improve productivity in farming.
The Guardian's Weather Watch reports on new research into European power systems and the ability to cope with increasing renewable energy production.
Mail Online and others have articles following the Queen's speech noting that academics including Dr James Anderson (Computer Science) have pointed out the similarity between the brooch the Queen wore and the EU flag.
Prof Paul Williams (Met) is quoted in an article in Geographical looking at whether 'green flight' could be possible.
Al Jazeera look at seven 'signs to come' following the UK's exit from the EU. Dr Mark Shanahan (Politics and IR) is quoted.
Prof Carol Fuller (IoE) is quoted in a Times Education Supplement feature on the positive benefits of Christmas for schools.
An article for The Conversation by Prof Anne Mathers-Lawrence (History) looks at the origins of Christmas decorations. The article is republished in the Metro, Gizmodo Australia, and Christian Today.
Prof Ian Givens (IFNH) is quoted in articles in the Express and Business Telegraph about a new study suggesting that cheese has potentially a positive effect on health.
TalkRadio spoke to Prof Julie Lovegrove (Food) following a study looking at the beneficial effect of two apples on cardiovascular health risk.
The University of Reading is one of the answers in the Times Higher Education pub quiz.
iNews interviewed Friends of the Earth CEO and UoR graduate Craig Bennett, and the article cites research on pollinators.
Prof Anna Macready (Agriculture) spoke to BBC Radio Berkshire about how we can cut down food waste over the Christmas period.
Digging up Britain's Past, airing on Channel 5 this Saturday, visited Silchester with a team of UoR Archaeologists, in TV Times Magazine.
An article for GetReading reports about former research at the National Institute for Research in Dairying (NIRD) about radiation and the effect on milk and metabolism.
Planning Magazine quotes Prof Gavin Parker (REP) about building on flood plains.
An article for the Times about grassroots Rugby notes that local Reading team, the Rams, has set up a sports academy with UoR.
Farmers Weekly notes that UoR was the 9th best university for Agriculture in the QS World University Rankings, the only UK institution to make the top 10.
Reading Chronicle note that Launchpad Reading, which has launched a fundraising bid to open an employment centre, started 40 years ago by UoR students.
Prof Sir Brian Hoskins (Met) is quoted in an article for the Wokingham Paper about climate action.
IBL News reports on the most popular online courses, including Managing People run by UoR through the FutureLearn online platform.
Dr Peter Inness (Met) spoke to the Breeze about the weather forecast over the Christmas period.
BBC Berkshire mentioned a set of blog posts written by UoR Historians about the meaning behind the 12 days of Christmas song.
The Scorecasting team from the Department of Economics are mentioned by BBC Radio London ahead of football fixtures.