Reading in the news - Tue 7 Jan
07 January 2020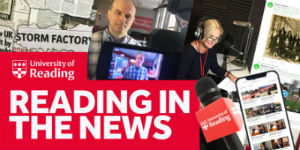 Secret of happiness: The Daily Mail, a comment piece in the Guardian and Carehome.co.uk report on a Reading study that shows chasing happiness can have the opposite effect on your mood. BBC Radio Berkshire interviewed Dr Julia Vogt (Psychology) about the study. Read our news story.
Four-day week: The Guardian, Yahoo Finance mention Henley Business School research into the benefits of a four-day week in articles about Finland planning to implement it. Read Henley's news story.
China disease outbreak: The Telegraph and Yahoo News quote Professor Ian Jones (Biological Sciences) in a story on a mysterious lung disease affecting people in China.
Gut instinct: Mail Online reports on a study co-led by Reading (Economics) suggesting that not overthinking decisions leads to a better outcome.
Other coverage
Professor Chris Hilson (School of Law) is quoted by ENDS Report (£) on a campaign to make environmental destruction a crime against peace.
Professor Nada Kakabadse (Henley Business School) is quoted by Board Agenda on public trust in businesses behaving ethically, and another article calling for businesses to treat sustainability more seriously.
The New European quotes Professor Andrew Kakabadse (Henley Business School) on the effectiveness of the Civil Service.
Cairns Post and Surat Basin report on the clash between Reading graduate and ITV weather presenter Laura Tobin and Australian MP Craig Kelly during a Good Morning Britain interview on the country's wildfires.
Vet Times reports on research showing feeding oregano oil to dairy calves can reduce antimicrobial resistance.
BBC Radio Berkshire interviewed Dr Mark Shanahan (Politics and International Relations) about the latest situation in Iran following the killing of Qasem Soleimani.
BBC Radio Berkshire interviewed Dr Rob Thompson (Meteorology) about cloud seeding as a potential way of easing the severe wildfires currently burning in Australia.
A project being run with the University of Reading to explore the therapeutic effects of knitting was mentioned in an interview on BBC Radio 4.