Reading in the News - Weds 8 Jan
08 January 2020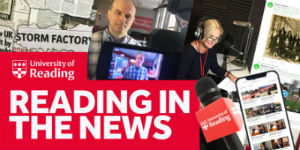 Secret of happiness: Further coverage of Dr Julia Vogt's (Psychology) study that shows chasing happiness can have the opposite effect on your mood, is featured in the Reading Chronicle and the Daily Star.
Other News
The Washington Post reports on a study co-led by Reading (Economics) suggesting that not overthinking decisions leads to a better outcome.
Rob Thompson (Met) spoke to BBC Berkshire about the concept of cloud seeding.
Ed Hawkins (Met) and the #ShowYourStripes graphic featured as one of the questions on a German television quiz show. The climate stripes are also featured in an article by Carbon Brief on the media reaction to the Australian fires.
Further coverage of Reading graduate Laura Tobin's spat with Australian MP Craig Kelly features in the Daily Express.
The Shropshire Star quotes Dr Gillian Rose (Agriculture) in an article about the use of new technology in farming.