Reading in the News - Thurs 9 Jan
09 January 2020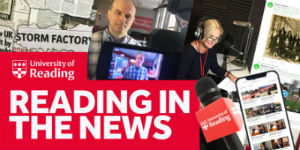 Iran/US tensions: Dr Vladimir Rauta (International Relations) spoke to BBC News 24, BBC Berkshire, BBC Radio 4, BBC Radio Scotland. Darius Wainwright (History) also spoke to BBC Radio Berkshire on the topic.
Tea-drinking: Professor Gunter Kuhnle (Human Nutrition) is quoted in articles by The Times, ITV, Metro, and a number of regional press outlets including The Oxford Mail, about the health benefits of drinking green or black tea at least three times a day.
The Pursuit of Happiness: BBC Radio 4 mentions Dr Julia Vogt's (Psychology) study that shows chasing happiness can have the opposite effect on your mood.
The Future of the High Street: Professor Adrian Palmer (Marketing & Reputation) spoke to BBC Berkshire about the closure of music chain HMV and the announcement by Costa to close one of its branches in Reading.
Other News
Farming Weekly reports on research carried out by the Universities of Reading, Nottingham and Bangor, The Woodland Trust, the Organic Research Centre and the Game and Wildlife Conservation Trust, on how tree leaves could counter zinc and cobalt deficiencies in livestock.
Business Live mentions a study by Henley Business School into the benefits of a four-day working week in an article about a travel company which has adopted the practice.
The Reading Chronicle runs a piece on Reading Film Theatre's 50th anniversary.
The Daily Telegraph runs an obituary to Andrew Palmer, long-time supporter of the University, who died in November.
Sporting Rifle mentions the University in an article about the pressures facing live quarry shooting.