Reading in the news - Fri 10 Jan
10 January 2020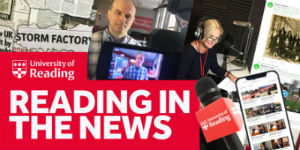 Meghan and Harry: Prof Kate Williams (History) was interviewed following the announcement that the Duke and Duchess of Sussex have announced they will step back from senior royal duty. Prof Williams spoke to BBC Breakfast, BBC R5 Live, CNN, RTE Ireland, and BBC Radio Berkshire; and is quoted in Tatler and China Daily.
Tea-drinking: Further coverage of comments by Prof Gunter Kuhnle (Food) about the health benefits of drinking green or black tea at least three times a day, in CNN, MSN news, BBC Science Focus, Country Living, and GetReading.
The Pursuit of Happiness: Further coverage of Dr Julia Vogt's (Psychology) study that shows chasing happiness can have the opposite effect on your mood, in Yahoo! News.
Other News
Evening Standard look at managing a 'side hustle' alongside full-time work, and cited Henley Business School research.

Director of Campus Commerce, Matthew White has won The Caterer's Public Sector Caterer Award.

Further coverage of Prof Anna Macready's (Agriculture) EIT Food-funded TrustTracker project in CPM Magazine.
Marie Claire look at the idea of dopamine fasting, and quote Dr Ciara McCabe (Psychology) from her piece in the Conversation.

Prof Lisa Methven's (Food) EIT Food-funded project SureChoc is mentioned in Food Manufacture.

BusinessMagazin reports on Prof Andrew Kakabadse's (Henley Business School) report on skills needed by board members.
A report in Ag Funders News reports on a new vegan bacon alternative, and notes UoR Food scientists who have worked with the company on sensory tasting.
Maidenhead Advertiser reports that the town saw 577.5 hours of rain in 2019, according to Dr Roger Brugge (Met).