Reading in the news - Mon 13 Jan
13 January 2020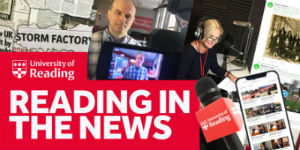 Interview tips: The Sun quotes Naeema Pasha (Henley Business School) about the best way to approach job interviews.
Management methods: The Financial Times quoted Dr Rebecca Jones (Henley Business School) on a story on how managers should coach their staff.
Harry and Meghan: NBC News, 41 WMGT quoted Professor Kate Williams (History) about the discussions between Prince Harry and Meghan and the Royal Family about their future role. Professor Williams authored a piece for the Observer and BBC Radio Berkshire also interviewed her.
Lifesaving tea: Professor Gunter Kuhnle (Food and Nutritional Sciences) is quoted by OK! Magazine, Prima, the Coventry Telegraph, on research on the health benefits of drinking tea.
Other coverage
Marie Claire quotes Dr Ciara McCabe (Psychology) on the dopamine fasting trend.
Grist quotes Dr Claire Ryder (Meteorology) on the Australian bush fires.
The Caterer reports that Matt White, Director of Campus Commerce, has won its Public Sector Catering Award.
The South Shropshire Journal quotes Dr Anna Macready (Agriculture) on farmers being voted the most trusted part of the food chain, in EIT research involving Reading. A second EIT project on technology used in beef farming is also reported in the South Shropshire Journal.
The Wokingham Paper reports that Reading student Taz Usher has won an award for an article she wrote for the student newspaper The Spark.
BBC.com Indonesia quotes Professor Ian Givens (Food and Nutritional Sciences) in an article on different types of milk.
BBC Radio Devon spoke to a business owner who has introduced a four-day working week, who referenced Henley Business School research about the benefits of this arrangement. Brisbane Times, Sydney Morning Herald, The Age, bbpMedia and CGTN also mention the research in stories. Read Henley's news story.
BBC Radio Berkshire spoke to Dr Mark Shanahan (Politics and International Relations) about the latest situation between Iran and the US.
News Letter Belfast reports on how oregano oil can help prevent anti-microbial resistance in calves.
The Reading Chronicle reports that Dr Kate Allen (Art) is a judge in a Reading art competition.
KPBS Television in San Diego repeated an episode of the Antiques Roadshow where items, including one belonging to one of the first women to gain a degree in Agriculture from Reading.