Physician Associates help GP surgery provide same day mental health appointments
15 January 2020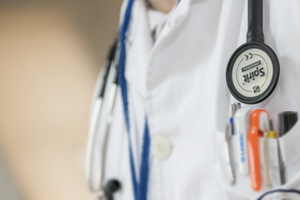 New undergraduate course opens more options for healthcare qualifications
Fifth year of programme for graduates now open for applications
A GP surgery in Berkshire has been able to improve waiting times for acute mental health appointments, by appointing Physician Associates to relieve the burden on doctors.
The Brookside Surgery in Reading is currently able to provide same-day appointments for patients experiencing poor mental health, cutting waiting times by up to four days and ensuring that GPs have more availability to see other types of patients.
Dr Amit Sharma, a partner at the Brookside Surgery said:
"Having Physician Associates employed in the surgery has been hugely helpful for the whole practice and the benefit has been felt by patients and staff.
"Tanya's capacity to provide urgent appointments for acutely unwell mental health patients has been particularly helpful, as rightly they often need a considerable amount of time which cannot be met by GPs. So not only is Tanya helping to ease the caseload for us, she's also enabling the surgery to provide a better quality of care all round."
Tanya, a Physician Associate in a busy Reading GP surgery
In the three months leading up to the end of 2019, Tanya has had 501 patient interactions, 203 patients seen face to face and 49 patients being seen face to face with mental health problems. On top of those appointments, Tanya's caseload also includes follow-ups on the telephone with mental health problems which are require a more in depth search to identify.
The biggest benefit is that she is able to see patients presenting acutely with mental health on the day rather than the GP which means the GP is more available to see other types of patients as acutely unwell mental health patients often need a considerable amount of time.
Tanya said:
"Working to see mental health patients acutely has been particularly fruitful, as often these patients are in need of the most timely intervention. Picking these patients up enables me to start building rapport and to holistically explore the deep-seated issues arising from their presentation. In my experience, these patients are very grateful to have been seen on-the-day and continue to come back to me for their interim reviews.
"I feel very grateful to work for such a wonderful practice!"
The Physician Associates working in the Brookside Surgery are part of a group trained at the University of Reading, which since 2015 has trained more than 50 practitioners to work with GPs and in hospitals.
The Postgraduate Physician Associate programme, which fast-tracks top science graduates into healthcare professions, is designed to help the NHS meet the demands of the UK's growing population. Physician Associates (PA) undertake two years of intensive training before they begin working alongside doctors in a wide variety of workplaces (including GP practices, community health services and all types of hospital care) including Brookside GP surgery.
Dr Simone Magee, the Programme Director for Physician Associate training at the University of Reading said:
"The NHS is a national treasure, but the exceptional demands that it faces means that doctors are more stretched than ever before. This has been particularly evident in primary care due to early retirements and difficulties in recruiting new GPs. Through the Physician Associate scheme, we have seen the difference that our graduates are making in the local workforce, benefitting patients and improving access to healthcare quickly and efficiently. This is due to the fact that our students are taught in the same model as doctors in training, making them highly flexible and versatile medical practitioners.
"Every one of our graduates who has qualified to work as a PA has now secured employment in the NHS, adding much-needed new blood to the workforce within both primary and secondary care. The courses also provide great value for money for students wanting to get into healthcare careers with support currently available from Health Education England."
The programme has celebrated several milestones, with:
The Physician Associate Programme at the University of Reading celebrated its fifth intake of postgraduate students in 2019, and we were delighted to welcome our 102nd student to the programme.

The PA programme at Reading is highly regarded for our remarkable pass rate at the National Physician Associate examinations and in our impressive 100% employment record in local and national healthcare and educational settings.

Three Physician Associates from our first cohort have been newly appointed as Physician Associate Ambassadors (PAAs) by Health Education England Thames Valley. This highly prestigious role supports a portfolio of projects focussing on workforce planning, recruitment and professional support of PAs throughout the region in all healthcare settings.
In addition, the University of Reading has now developed a new fast-track route for undergraduates with our four-year Masters of Physician Associate Studies (MPAS). Applications for the 2020 postgraduate programme are now open.
The programmes are the first of their kind in the Thames Valley and has been developed in partnership with both the Royal Berkshire Hospital and Berkshire Healthcare, along with the collaboration of local clinical commissioning groups. Both NHS Trusts will be providing clinical academic input into the course as well as a range of placements.
Find out more about the Physician Associate programme at the University of Reading at the following link:
http://www.reading.ac.uk/pharmacy/physicianassociate/pharm-physician-associate.aspx