Reading in the news - Thurs 16 Jan
16 January 2020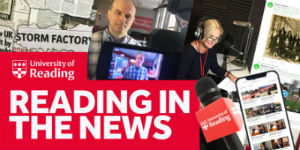 Warmest decade on record: Prof Elizabeth Robinson (Applied Economics and Marketing) discussed the impact climate change can have on our everyday lives with BBC World News, BBC News at Six (7 mins 40 secs in) and BBC News at Ten (1 min 53 secs in) (both featuring the University's Atmospheric Observatory), BBC News 24, BBC Radio 4, BBC Radio 2, BBC World Service Radio and was also featured on BBC regional radio stations around the country.
Weather in space: Prof Chris Scott (Met) was interviewed on the Chris Evans breakfast show on Virgin Radio (9.30-10am slot), talking about space weather.
Attenborough on climate crisis: Sir David Attenborough was interviewed for BBC on the climate crisis. Comments from Prof Ed Hawkins (Met) were featured in this BBC News Online article, which is also reproduced on Huffington Global.
'London weighting' for Reading: Dr James Reade (Economics) discusses the likelihood of Reading getting a 'London weighting' now that it is on the Tube map, in an article on getreading.
Other coverage