Reading in the news - Fri 17 Jan
17 January 2020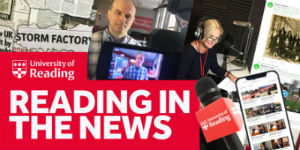 Attenborough on climate crisis: The leading item on the BBC Six o'clock News saw Dr Elisabeth Thompson (Met) interviewed about the climate crisis, as part of a piece covering comments by Sir David Attenborough.
Climate stripes: BBC News channel are covering climate change as part of a series, and used Prof Ed Hawkins' climate stripes to show temperature increases in Scotland where they are broadcasting from today.
Physician Associates: Reading Chronicle report on a local GP that has improved access to mental health provision through employing a Physician Associate who trained at UoR. Read our news story here.
Other coverage
An article for Charity Comms looks at audience-centred design and a service to connect researchers and potential participants, and includes comments by a UoR researcher.

Dr Darius Widera (Pharmacy) is quoted in an article for

Medicalxpress

about new research into how cell inflammation. Read our news story here.

Medicalxpress

report on research into bilingualism and a potential protective effect against multiple sclerosis. Read our news story here.

Further coverage of SureChoc, a reduced sugar chocolate which was developed with help from Food Sciences Prof Lisa Methven, in

No Camels

.

Dr Rachel Horton (Law) spoke to

BBC Radio Berkshire

about discrimination in the workplace, and taking time off with 'hidden' disabilities.