Reading in the news - Mon 20 Jan
20 January 2020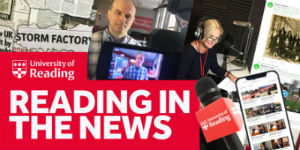 Human connectedness: The new book by Professor Tom Oliver (Biological Sciences), which explores how humans are connected with the natural world and each other, is covered by the Guardian, Times, Telegraph, Yahoo News. See details about Professor Oliver's forthcoming public lecture on this topic here.
Languages and mental health: The Times reports on Reading research (Psychology) showing bilingualism can help stop decline in brain function. Read our news story.
Australian fires: UNILAD quotes Dr Nicolas Bellouin (Meteorology) on the impacts of the smoke from the Australia bush fires.
Diet books: The Irish Mail quotes Professor Gunter Kuhnle (Food and Nutritional Sciences) in an article about the truth behind dieting claims.
Climate change: BBC Breakfast used Professor Ed Hawkins' (Meteorology) climate stripes again later on Friday morning, as part of its climate change coverage. Conserve Energy Future quotes Professor Hawkins from a BBC interview last week on rising global temperatures.
Kids eating vegetables: The Evening Express and Gibraltar Chronicle reports on Reading research (Food and Nutritional Sciences) on how showing children pictures of vegetables encourages them to eat them.
Other coverage
Farmers Guardian mentions trials by Reading on poison-resistant rats in an article on these 'super rodents' becoming more common on British farms.
The People and Urdu Point mention Reading research showing trying to be happy can have the opposite effect. Read our news story.
Daily Nation quotes Professor Kate Williams (History) on Harry and Meghan stepping down from Royal duties.
BBC Radio Berkshire reported that the University is holding its annual chaplaincy lecture today, where Neil MacGregor, author former director of the British Museum is presenting.
Reading.co.uk reports on the Physician Associates scheme in association with the University of Reading. Read our news story.
Arab Youm mentions Reading research (Food and Nutritional Sciences) showing eating dates promotes good bacteria in your gut.