Record high air pressure confirmed across southern England
20 January 2020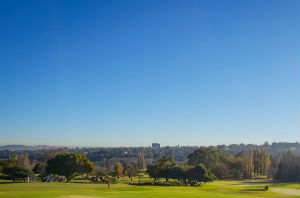 Air pressure at London's Heathrow Airport rose to a record high on Monday (20 January), surpassing all daily readings in the capital since records began in 1692.
The reading of 1049.6 milibars (mbar), recorded at midnight on 19/20 January, was 2.3 mbar higher than the previous Heathrow record of 1964. The previous high for London as a whole was 1049.1 mbar, recorded at Kew Observatory at 11am on 18 January 1882.
High pressure typically brings dry weather and clear skies, with large changes in temperature from day to night.
A University of Reading expert has attributed the unusual conditions to an area of intense low pressure that rapidly developed off the east coast of the US a few days earlier, causing a storm that dumped around 75cm of snow on Newfoundland.
Stephen Burt, Visiting Fellow in Meteorology at the University of Reading, said: "Exceeding a previous extreme by such a large value is extremely unusual. This is also the first time for over 60 years that 1050 mbar has been attained anywhere in the British Isles.
"The air drawn out from the low pressure system off the US east coast by a strong jet stream has to be redistributed elsewhere. Normally this would happen over a much larger area of the North Atlantic, leading to the rapid development of a fairly intense anticyclone, which is not uncommon.
"On this occasion, though, the 'excess air' could only be redistributed over a small area because of the existence of a number of other depressions, resulting in an intense anticyclone developing rapidly over the British Isles."
Since 1800, 1050 mbar has only been reached in the British Isles on nine previous occasions. While air pressure reached a record high for south-east and central southern England, it failed to beat the national record of 1053.6 mbar recorded in Aberdeen in January 1902.
At its peak, the centre of the current spell of high pressure area lay over south Wales, Somerset and Devon. The highest known Met Office reading during this spell currently stands at 1050.4 mbar (correct as of 1.30pm Monday), recorded at Dunkeswell in Devon at 2am on Monday.
The University of Reading also recorded the highest ever reading in its records extending back to 1908. The reading of 1049.9 mbar at 11.45pm on Sunday surpassed the University's previous highest value of 1049.5 mbar from January 1932.
Computerised forecast models run by the Met Office and the European Centre for Medium Range Weather Forecasts (ECMWF) predicted the anticyclone and resulting high pressure with near pinpoint precision, forecasting the eventual position and intensity of the high pressure area several days in advance, before it had even begun to form.