Reading in the news - Tue 21 Jan
21 January 2020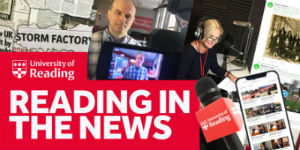 High Pressure environment: BBC News online report on record high pressure over London, and extensively quote Visiting Fellow Stephen Burt (Met). Dundee Messenger also report.
Bilingual brains: A further mention in the Times about a study that finds that bilingualism may help stop decline in brain function. Read our news story.
Food fraud: An article in the Conversation by John Keogh (Henley Business School) looks at the issue of food fraud. The article has been reposted in Big News Network.
Other coverage
Dr Eugene Mohareb (SBE) spoke to BBC South Today for a piece looking at personal carbon footprints.
Medium have a post about Marie Neurath and the legacy of science communication. The article mentions that the collection is held at the University of Reading's Typography & Graphic Communication.
Further coverage of comments by Prof Gunter Kuhnle (Food) on the benefits of green tea, in MTV Lebanon.