Facial recognition passport could help solve Brexit Irish border problem
21 January 2020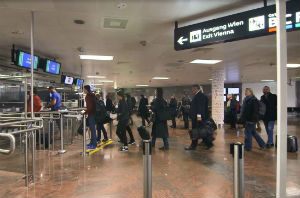 Border security checks could be sped up with new facial recognition technology that allows a person's face and smartphone to replace their traditional passport.
Facial recognition technology, developed at the University of Reading, automatically scans people as they move through border security areas, meaning they can be identified and cleared for entry without even stopping walking.
The PROTECT technology is currently under consideration by the UK Home Office and Border Force to be implemented in UK airports.
Its designers say it could also provide a technological solution to some of the issues at the Irish-UK border, if security checks need to be reintroduced in the event of a no-deal Brexit.
Watch a video on the PROTECT project >>>
Professor James Ferryman, who is leading the research, said: "Facial recognition offers a high-tech alternative to current border checks. The system speeds up security checks by making them automatic and easy for people to use, without compromising security or reliability. It's a completely voluntary system with a straightforward registration process and people can opt-out at any time."
"Our system is the result of years of research and development and we are confident it is ready to be rolled out. We hope passengers will be able to benefit from it in airports in the near future."
Millions of people pass through UK airports every day, with the number set to double by 2030. Technology offers the potential for making security checks more efficient and could avoid any increase in queueing times for passengers.
The PROTECT technology combines non-intrusive facial recognition technology with a digital passport, which stores a photo of a person's face, and other optional biometrics such as gait, securely on a mobile phone app.
Once someone has signed up with their passport, they simply open the app and walk through a secure corridor. The corridor is equipped with cameras linked to software that recognises a person's unique facial features to confirm his or her identity. Anyone not recognised by the cameras as being authorised to cross the border is highlighted to security staff and can be stopped for manual checks before they leave the immigration area.
As well as airports, the technology could be used at seaports or other ports of entry on routes that cross international borders.
Tests are also being carried out to potentially use the technology to identify people inside vehicles, for use at land borders or before boarding car ferries or cruise ships.
PROTECT is a potential solution where there is political and social sensitivity about physical borders, such as in mainland Europe or a post-Brexit Irish border. It would reduce the time wasted queueing and presenting documentation for both walking passengers and vehicle traffic.
Professor Ferryman said: "
"The PROTECT concept reduces the look and feel of a physical border, almost to the point that travellers do not have to even think about the fact they are undergoing border control checks. The use of mobile devices can facilitate this, and may even allow multiple identities to be stored on one device.
"The Irish-UK border problem after Brexit is one example of where this kind of technology could offer a solution by maintaining customs, immigration and security integrity but also making the experience more convenient and comfortable for people."
PROTECT is three-year European Commission Horizon 2020 project funded under the Secure Societies work programme.