Reading in the news - Wed 22 Jan
22 January 2020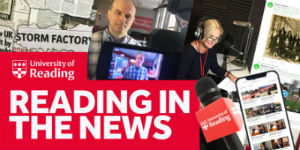 Bushfire comments: Sydney Morning Herald report on comments by scientists including Prof Sandy Harrison (GES) about the relationship between bushfires in Australia and climate change, following remarks by Australian parliamentarian Chris Kelly. Kelly also got into an argument with UoR graduate and ITV weather presenter Laura Tobin which is included the article.
Edith Morley: BBC Radio 3 Free Thinking discusses pioneering women in academia, and discuss Prof Edith Morley.
Free speech: Prof Rosa Freedman (Law) is quoted in an article in the Telegraph (£) about academic freedom and free speech regarding an event taking place at Oxford Uni.
Other coverage
Dr Darius Widera (Pharmacy) writes for the Conversation about the controversial practice of stem cell treatment for autism.
The Guardian have published an obituary for noted psychologist Professor Hannah Steinberg, who studied a business course at UoR early in her career.
Prof Kate Williams (History) spoke to LBC following news that the Duke and Duchess of Sussex have warned media over taking photos of them.
Further coverage of high pressure in the UK, with an article in the Conversation by Stephen Burt (Met).
Reading Chronicle have an item on the Reading charity pancake race, and note that the UoR Law School won an award for the most funds raised for local homeless charity Launchpad.
Comments by Prof Gunter Kuhnle (Food) about low-carb and low-fat diets appear in Medscape and eMedicine.
BBC Solent carry further comments by Dr Eugene Mohareb (Built Environment) about personal carbon footprints.
An item on UKRI covers a new BBSRC-funded network to reduce food waste which is being co-led by Prof Carol Wagstaff (Food). Read our news story here.
BBC Wiltshire discuss the Swindon Science Festival and note that UoR will be supporting the event taking place in February.
CILIP note that the Chinese university NUIST have had a course professionally accredited, and mentions links with UoR.
Research into cloud seeding to help drought-hit regions get more rain is reported widely including the National UAE. Prof Martin Ambaum (Met) is quoted.
<!--[if !supportLists]-->