Reading in the news - Thu 23 Jan
23 January 2020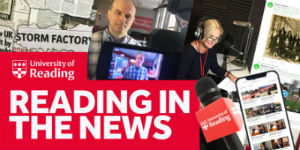 High pressure: Metro.co.uk has reproduced Stephen Burt's Conversation blog on record air pressures recorded in London this week.
Celibacy in the Church: Prof Helen Parish (Hums) has penned a blog for The Conversation on the topic of celibacy in the Roman Catholic Church and whether or not this might be about to change after 1,000 years.
High pressure: Dr Eugene Mohareb (SBE) was featured on BBC South and BBC Oxford for a piece looking at personal carbon footprints.
Other coverage
An item on Business Weekly covers a new BBSRC-funded network to reduce food waste which is being co-led by Prof Carol Wagstaff (Food). Read our news story here.
Reading graduate Christopher Hanks, now chair of Future Farmers of Wales, is interviewed in Wales Farmer (print) about the campaign to introduce continuous professional development (CPD) within the industry.
An article in Berkshire Life (print) on local homeless charity Launchpad notes that it was founded by University of Reading students.
Sudanese refugee and Reading graduate Raga Gibreel will be guest speaker at a Holocaust Memorial Day event in Deal, writes the East Kent Mercury (print).
A Conversation blog by John Keogh (Henley Business School) looking at the issue of food fraud is reproduced in Canadian Grocer.
Comment from Dr Ciara McCabe (Psychology) on dopamine fasting is featured in this article for Welt.de.