Reading in the news - Fri 24 Jan
24 January 2020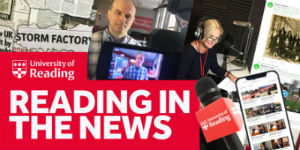 Coronavirus: Prof Ian Jones (Biological Sciences) spoke to Sky News, LBC, Heart Berkshire and the Guardian's Science Weekly podcast; and is also quoted in the Guardian following further news regarding the coronavirus originating in China.
High pressure: The Times Weather Eye (and in print) report on a blizzard in Newfoundland and the record high pressure in the South East of England. Visiting Fellow Stephen Burt (Met) is quoted.
Collective climate change response: The Conversation have run an article by Prof Tom Oliver (Biological Sciences) about the collective responsibility needed to address climate change. The article has been reposted in Daily Hunt. Prof Oliver's book is also covered by Lancaster Guardian.
Other coverage
PhD researcher Taibat Ibitoye (Food) writes for the Conversation about malnutrition in an ageing population and possible warning signs. The article was republished by Yahoo! News.
The Guardian runs an article about what to expect when studying for a PhD and quotes Dr Alicia Peña (Student Services).
Dr David Rose (Agriculture) has co-authored a Conversation article about the Government's desire to recruit more scientists and engineers into the civil service. Foreign Affairs NZ reposts.
Further coverage of a network to reduce food waste co-led by Prof Carol Wagstaff (Food) in Potato Business. Read our news story here.
Farmers Guardian and Feed Compounder report on ongoing research at the Centre for Dairy Research and quotes Prof Chris Reynolds (Agriculture).
A project to produce sugar reduced chocolate is covered in Confectionary Production. Prof Lisa Methven (Food) is quoted.
Further coverage of an EIT Food-funded project See and Eat which helps children to eat more fruit and veg, in Retford Times. Dr Natalie Masento (Food) is quoted.
<!--[if !supportLists]-->