Reading in the news - Mon 27 Jan
27 January 2020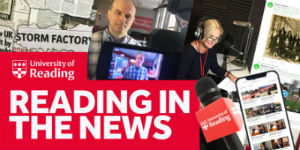 Lancet Countdown: The Mirror quotes Professor Elizabeth Robinson (Agriculture) in an article on the Lancet Countdown, which she co-authored. The report looked at the impacts climate change will have on children born today. Read our news story.
Four-day week: The Telegraph mention Henley Business School research into the benefits of the four-day working week, in an article discussing whether staff get more done in this model.
Cinema experience: The Financial Times quotes Professor Miskell (Hernley Business School) on how innovative film makers are being threatened by streaming services and blockbuster productions.
University 'gag': The Sunday Times, The Spectator and Jewish Chronicle report on Professor Rosa Freedman (School of Law) raising concerns about invitations to a University of Essex event and freedom of speech.
Other coverage
Mail Online mentions Reading in an article about an Oxford academic who has felt under threat for speaking out on laws around gender.
The Guardian mention Eimear McBride's Samuel Beckett Creative Fellowship in a piece on her new novel.
Carlo Cafaro (Meteorology) was the mystery guest on BBC Radio Berkshire on Saturday, explaining the snow in Spain last week.
Talk Radio interviewed Dr Ben Neuman (formerly Biological Sciences) on the spread of the coronavirus from China.
Metro republishes a piece on The Conversation by Taibat Ibitoye (Food and Nutritional Sciences) on spotting malnutrition in adults.
The Times mentions the challenges faced by Reading after opening its Malaysia campus in a piece on UK universities expanding into other countries.
Daily Star on Sunday and Oke Techno quote Professor Simon Clarke (Biological Sciences) on the rise of superbugs.
Reading Football Club's website previewed the weekend's FA Cup tie by mentioning Reading's Football Scorecasting research (Economics).
Kent Live reports on a Sudanese refugee who studied at the University of Reading speaking at a Holocaust Memorial Day event about conflict in her home country.
Daily Maverick in South Africa publishes an article by Jon Foster-Pedley (Dean and Director of Henley Business School Africa) on President Ramaposa and his upcoming State of the Nation address.